Future U.S. and European sites for the Ryder Cup matches
With the 2020 Ryder Cup matches concluding one year later than scheduled at Whistling Straits, the event has now shifted back to being held during odd years. The attention now turns to Europe, where Italy will host its first-ever Ryder Cup at the recently rebuilt Marco Simone Golf Club outside of Rome. It is also only the third Ryder Cup to ever take place on Europe's mainland. Weekly tickets are already sold out but according to RyderCup.com, a ballot for daily admission will be unveiled in 2022.
The PGA of America selects the venues for Ryder Cups hosted in the United States, while the European Tour selects their venues. The PGA of America has selected each of their dates through 2037. There is speculation, but not confirmation, that they will bring the 2041 event to their new headquarters in Frisco, Texas.
7 Min Read
September 21, 2021
Large buddies groups love playing Ryder Cup-style, multi-day team events on their golf vacations. And what could be more epic than playing a Ryder Cup match on a former (or future) Ryder Cup venue?
Confirmed future sites for the Ryder Cup
Marco Simone Golf & Country Club
Guidonia, Italy
Architect: Jim Fazio, David Mezzacane
Resort
---
Farmingdale, N.Y.
Architects: A.W. Tillinghast, Rees Jones
Municipal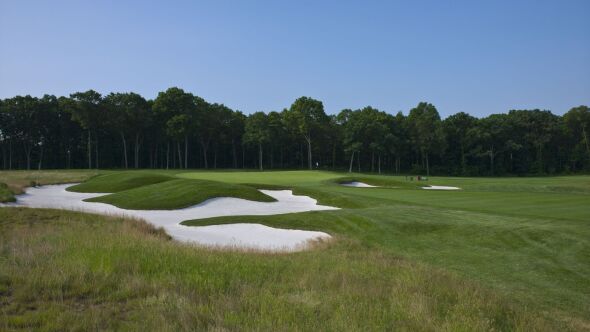 Farmingdale, New York
Municipal
---
County Limerick, Ireland
Architects: Roger Rulewich, Tom Fazio
Resort
---
Hazeltine National Golf Club
Chaska, Minn.
Architects: Robert Trent Jones Sr.
Private
---
TBD Europe
Lake Course at Olympic Club
San Francisco, Calif.
Architect: Willie Watson
Private
---
Congressional Country Club
Bethesda, Md.
Architect: Devereux Emmet, Robert Trent Jones Sr.
Private
Related Links
From Shinnecock Hills to Winged Foot, view the full list of future U.S. Open golf sites as announced by the USGA.
9 Images
Why not choose France for your next golf adventure? Wouldn't you rather be touring the Eiffel Towel after golf instead of trying to warm up from a wet day on an Irish or Scottish links?
8 Min Read
There was a time when practically every U.S. Open venue was an exclusive, private club. These days, "America's Open" has never been more open. Here are the six host courses open to the public, with tips on the best ways to secure a tee time.
5 Min Read
Jason Scott Deegan looks at the twenty golf course architects who have influenced major championship venues, from Augusta National to the U.S. Open, the most.
9 Min Read
View the future golf course sites for the PGA Championship, pro golf's major championship conducted by the PGA of America.
8 Images
Latest Popular Content
Load More