St. Louis — Less than three weeks after The Open Championship at Carnoustie in Angus, Scotland, the 2018 PGA Championship, comes with great anticipation as it arrives at storied Bellerive Country Club near St. Louis, Aug. 9-12.
There will be many storylines, of course, but the one most will be following is to see if Tiger Woods can continue his progress after a T-6 finish at The Open. Still four majors away from tying the great Jack Nicklaus' record of 18 major championships, you can expect the galleries to be huge as they follow Woods on this difficult 18-hole layout that has an impressive pedigree of tournament golf.
And wouldn't this be the appropriate time for Woods to get break through again, given that this is the 100th edition of the PGA Championship, a major Woods has won four times, the last time coming in 2007 at Southern Hills Country Club in Tulsa?
The 100th PGA will also be the last time for the foreseeable future that it will be the last major of the year. Next year, it moves to May at Bethpage State Park's Black Course and will follow the Masters and precede the U.S. Open. The move was made to fit better in the PGA Tour's split schedule, which also includes moving The PLAYERS Championship back to March from May.
This isn't the first go-round for Bellerive, of course, when it comes to staging major championships. Not only did it play host to the PGA Championship in 1992 (won by Nick Price), but it also has a U.S. Open to its credit. In 1965, just five years after the current course opened, Bellerive became the youngest golf course ever to play host to our national championship. Gary Player completed his career grand slam with the victory by winning the title in '65.
Video: Mike Tucker takes us on a tour of Bellerive CC
As far as what to expect this time around, who knows? What we do know is that Bellerive is putting its best foot forward. With record heat this summer, the greens were off limits to members and guests since the first of July and the course has been closed for any kind of play since July 22. Thankfully, a little rain and cooler temperatures worked their way into the area just two weeks before the event.
Bellerive director of golf Mike Tucker knows that early in the week the focus is on the golf course. With the heat pounding its bentgrass greens day in and day out, he's thankful for the great job director of grounds Carlos Arraya and his staff have been doing to get the course ready.
"On Monday, Tuesday and Wednesday, they're not talking as much about the players as they are the golf course," Tucker said. "I'm pretty excited. I'm pretty happy we got a little bit of a break. It's been crazy."
So whether you're there in person or watching on TV, you'll get plenty of chances to see the course and how the players do on it. Here, then, is a spectator's guide to help you through the week.
Where is the 2018 PGA Championship?
Bellerive Country Club is located in the St. Louis suburb of Town and Country, where it has been since 1959, when members located the club from its second location. Among its most famous residents are NBC Sports commentator Bob Costas as well as Pro Football Hall of Famer Dan Dierdorf and Baseball Hall of Famer Red Schoendienst.
The club actually dates back to 1897 as a nine-hole course called The Field Club, then it moved in 1910 to Normandy, where it was renamed Bellerive after Louis St. Ange De Bellerive, the last French governor in North America. The original Normandy course was designed by Scotsman Robert Foulis. It wasn't until 1955, though, when members decided to move it to its present location. They chose Robert Trent Jones Sr. to select the land in Creve Coeur and design the new course. It opened in 1960 and five years later, played host to the U.S. Open.
Since then, the course has been tweaked, including a significant renovation by RTJ's son, Rees Jones and associate Bryce Swanson in 2006. Changes included tree removal and lake construction on the second hole and 11th (two holes the pros may try to drive, depending on tee setup), straightening out the 618-yard par-5 eighth, and reworking the picturesque 482-yard Par 4-12th. They also changed the greens dramatically, making many of them smaller than the originals. Bunkers were repositioned and rebuilt, fairways were re-graded and course drainage was dramatically improved. But the biggest change came on the greens.
"Dad designed greens that were very large; he had to because in 1960 the ball was not traveling as far, he wanted larger targets for longer shots into the green," Jones said. "Bryce and I shrunk the greens by 1,000 square feet or so but maintained the philosophy of valuing good approach shots, while maintaining the speeds of greens in today's championship events.
Two years after Jones' renovation, Bellerive hosted the 2008 BMW Championship as an event of the FedEx Cup Playoffs.
How to get PGA Championship tickets
Weekly gallery tickets for the PGA Championship are sold out as are weekend gallery tickets (Friday-Sunday), but practice round, and grounds passes for Thursday's first round are still available from the PGA of America.
Monday-Wednesday tickets are $35 each day. First-round tickets on Thursday are $100.
There are other options, of course, if you still want to go. You can check out the secondary market. On Stubhub (as of Friday, July 27), you could still get a weekly grounds pass for as little as $335, but the prices varied greatly (up to $1,000) per one tickets.
You could also check into some of the hospitality packages. The PGA of America offers a four-day Centennial Club package (Thursday-Friday) starting at $3,600 per person. It includes a private, yet shared, all-inclusive entertainment experience featuring bar service, breakfast, lunch, and afternoon buffets at the Centennial Club located on the 01th fairway. One-day tickets are also available, ranging from $1,400 (Thursday-Friday) to $1,500 (Saturday-Sunday).
Regardless of whether the event is sold out or not, juniors 17 and under are admitted free when accompanied by a ticketed adult. Each ticketed adult is permitted four junior grounds admission per day. Junior tickets may be picked up on-site at the Admission Sales & Will Call Office located at the Main Spectator Entrance on the day of admission.
Also, to honor the men and women who serve our country, active duty, retirees, reserve, National Guard and their accompanying guest (limit one) can also get complimentary daily grounds access to the Championship. Upon arrival, military personnel just need to go to the Admissions Sales and Will Call Office at the Main Spectator Entrance to present their military ID in exchange for daily admission.
And finally, once you're in, you're in, but if you go out, you can't come back in. There is no re-admission once your ticket is scanned and you leave the property.
PGA Championship parking and transportation
Officials want everyone to know this: There is no parking for spectators at Bellerive Country Club. Even local residents who live near the club can't walk to the gates. They must go to a designated lot and take a shuttle.
Fortunately, there are a couple of good options. The main one is to drive to Fenton Logistics Park (1050 Dodge Drive, Fenton, Mo.), also known as the old Chrysler plant off State Highway 44. It's about a 20-minute shuttle ride to the course (there's even a dedicated lane for the shuttles to help speed up the process).
You can also utilize the official Rideshare PUDO (Pick-Up/ Drop-Off) lot for the 100th PGA Championship at Westminster Christian Prep School (800 Maryville Centre Drive, Chesterfield, Mo.), which is just a little more than five minutes from the club. Simply take an Uber, Taxi or Lyft ride to the Rideshare lot and catch a free shuttle from there. The lot is equipped with a shelter and even TVs to watch while you wait.
Where are the best places to view the tournament?
Between holes 2 and 3: "You can see play into the short par 4 (that goes around the water) and followed by the short par-3, no. 3, which also plays over water," Tucker says.
Par-3 sixth, which will play 190 yards to 209 yards over water: It was the hardest par 3 in U.S. Open history back in 1965 (4.02 average) at Bellerive. "If you want to see some trauma, you may want to go to no. 6. The most "others" will happen there. There's no room to miss it."
The bleachers near the 14th hole: It's the most spectacular view of the entire golf course," Tucker says. "Here you get a wonderful view of the holes in the lowland part of the golf course. It overlooks the 12th tee box as well as the 11th and nos. 2 and 3 and you can see 14."
Watching the approaches on the 602-yard par-5 17th: "When that tee is moved up, and it becomes a reachable par 5 for everybody, it will quite an interesting go for it par 5."
How do players qualify for the PGA Championship?
The first thing you should know is that the year's last major is staged by the PGA of America, not the PGA Tour. The PGA of America is the association of golf professionals around the country. There are more than 28,000 members, and yes, members of the PGA Tour are also members of the PGA of America. It is also the only one of the four majors that does not invite amateurs to play in it.
But this is the only major that reserves spots for club professionals. In short, the top 20 from the previous PGA Professional Championship receive invitations, so it's always fun to see if a club pro or two can make the cut at the PGA Championship. They're at a distinct disadvantage since they don't play or practice like tour pros. The only club pro to make the cut at a PGA Championship in the last five years was Brian Gaffney in 2015 at Whistling Straits. The last time a club pro finished in the top 20 at the PGA Championship was when Jay Overton tied for 17th in 1988 at Oak Tree Country Club.
How does the PGA determine the rest of the field? Here's a list of some of the ways:
The top 70 in the official money standings on the PGA Tour
Winners of the last five U.S. Opens, Masters and Open Championships
Winners of the last three Players Championships
Current Senior PGA Champion
The low 15 scorers in the previous PGA Championship
Members of the most recent Ryder Cup teams
Total field is 156 players, which will also include some special invitations.
<br>
PGA Championship fan experience
As one might expect, there's quite a bit going on at the PGA Championship in addition to the best players in the world competing on a difficult golf course.
For the fans, there are all sorts of experiences, starting with The Championship Shops, a 47,000-square-foot merchandise venue located at the main entrance along the spectator walkway. There you can pretty much buy anything you can think of related to the PGA Championship – hats, apparel, memorabilia, etc. That walkway, by the way, is elevated, and right over by the range. So from the get-go, attendees will get immersed in the scene of the 100th PGA Championship.
Also, while you're in The Championship Shops, you take a virtual selfie with the life-size video images of OMEGA Ambassadors Rory McIlroy, Sergio Garcia and Tommy Fleetwood. Of course, Omega would also like you to visit its on-site boutique, featuring the watches those players will be wearing that week.
The PGA is also conducting something called the "100th PGA Championship: The Ultimate Bracket." It is asking fans for help in identifying the greatest PGA Championship ever played. To learn more about the campaign and make your selections, visit PGAChampionship.com/PGA100 and see the video board located along the spectator walkway, next to The Championship Shops.
If you have a Chase Sapphire credit card, you can stop by the Chase Sapphire Cardmember Club along the 10th fairway and enjoy upgraded food available for purchase, cash bar, golf interactive, comfortable seating and views of the 10th Fairway. Chase Sapphire cardmembers may bring one guest and simply show their card for access.
As for food and beverages, spectators will be able to purchase sodas, water, mixed drinks and craft beers, including at self-serve "Tilt Your Own Tap" locations throughout the course. Food venues will feature specialty burgers, hot dogs, deli wraps, shrimp with Tai Noodles and local barbecue from SugarFire Smoke House.
Also, prior to the week of the tournament, The Championship Shops will be open to the public (Aug. 3-5). The Wanamaker and Ryder Cup trophies will be available for pictures during this Grand Opening. No tickets are required, but you can't park onsite. Instead, go to the Creve Coeur Soccer Complex (Lot C) at 2350 Creve Coeur Mill Road in Maryland Heights, Missouri, where you can take a free shuttle. Vehicles must access off Rte. 141/Maryland Heights Expressway and Creve Coeur Mill Road. Please follow road signage, traffic control officers, and parking attendants to lot.
Where to play golf in the St. Louis area
If you had your pick of places to play besides Bellerive, a couple of private clubs come to mind – St. Louis Country Club and Old Warson Country Club. Unless you're extremely well connected, you can forget about playing either one of these clubs, which are about as exclusive as they come.
Instead, you might have to think outside the city a little to find some terrific public golf. Perhaps the top public course in the area is Annbriar Golf Course in Waterloo, Ill., about 30 minutes from downtown St. Louis. Owned by the Nobbe Family, the course was built and named to honor daughter Ann, who envisioned the 345-acre family farm being turned into a golf course. She died in an auto accident in 1990 at the age of 26, and the course was developed the next year. Since then, with its welcoming atmosphere, excellent design and terrific conditioning, it's become a St. Louis area favorite.
Tucker considers Annbrier one of the five of six best courses in the St. Louis area, and that includes the private courses. He likes it so much that when Bellerive closed for play before the PGA Championship, he took some members out there to play it.
Some other public venues to consider include Tapawingo National in Sunset Hills, Mo. (Gary Player design), Missouri Bluffs in St. Charles, Mo. (Tom Fazio), Stonewolf in Fairview Heights, Ill. (Jack Nicklaus), Pevely Farms in Eureka, Mo. (Arthur Hills) and Gateway National Golf Links in Madison, Ill., (Keith Foster), just five miles east of downtown.
As for private clubs you might have a little more luck with, you might want to ask your pro to call Old Hickory, a PB Dye design or St. Albans Country Club, which has two courses, a Hurdzan-Dana Fry design as well as Tom Weiskopf layout.
Other things to do in the St. Louis area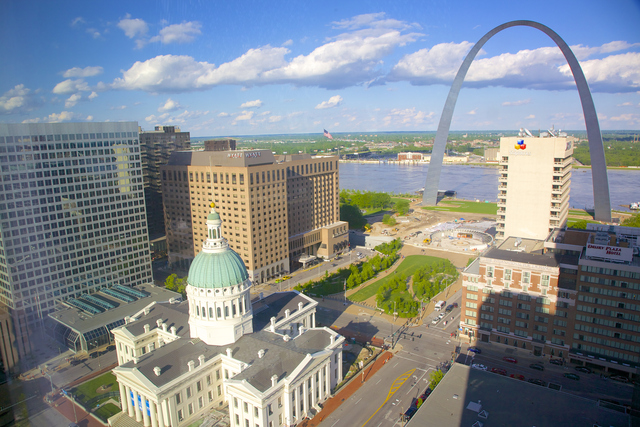 ---
When you're not at the tournament, you might want to check out one or more of the hundreds of things you can do in St. Louis.
The city is known for so many things, including its blues music, barbecue, the St. Louis Cardinals baseball team and, Anheuser Busch beer and of course, the famous Gateway Arch.
With that said, you might want to visit the National Blues Museum (615 Washington Ave.), which is dedicated to exploring the musical history and impact of the blues. While you're in the area, you can eat the Broadway Oyster Bar or check out shows at Beale on Broadway or BB's Jazz Blue Soups.
Another fun spot to visit is the Delmar Loop, a buzzing entertainment and dining hub with an eclectic mix of noodle bars, BBQ restaurants, Korean and Mexican eateries, cocktail lounges and pubs lining Delmar Boulevard. Well-known locals with stars on the St. Louis Walk of Fame include Maya Angelou and Betty Grable, as well as Chuck Berry, whose statue is nearby. Music venues like the Pageant and Delmar Hall stage rock, roots and indie gigs.
St. Louis' barbecue scene is as famous as any in the country. Known for its ribs and sauces, some great choices include Salt & Smoke (6525 Delmar Blvd.), Pappy's Smokehouse (3106 Olive St.) or Sugarfire Smoke House (605 Washington Ave., and several other locations.
But St. Louis is also known for its terrific Italian food, much of which can be found at the restaurants in a section of town called "The Hill." Among the favorites is Cunettos House of Pasta.
As for the beer, you can take a tour of the Anheuser-Busch Brewery (1200 Lynch St.), but St. Louis has an impressive craft scene as well. They include Urban Chestnut (4501 Manchester Ave., and 3229 Washington Ave.), Schlafly Beer (2100 Locust St.), 4 Hands Brewery (1220 S 8th St), and O'Fallon Brewery (45 Progress Pkwy, Maryland Heights, Mo.)'
And finally, what's a trip to St. Louis without visiting the famous Gateway Arch? Fortunately for attendees of the 100th PGA Championship, the Arch has a fresh new look after a recent $380 million transformation of the grounds and museum, so check it out if you get a chance, especially if you're staying at a downtown hotel like the Hilton St. Louis at the Ballpark.
The recently renovated Hilton hotel overlooks Anhueser Busch Stadium, which is home to the St. Louis Cardinals. It's also just a block from the Gateway Arch, and maybe 15 minutes from the Rideshare lot for the PGA Championship, so it's a terrific base. And you won't find many spots better to view the city than the hotel's 360 Rooftop Bar, located on the 26th floor, offering panoramic views of the Arch, downtown and, of course, Busch Stadium. And while the Cardinals aren't in town during the PGA Championship, if you can hang around an extra day, they start a seven-game homestand on Monday, Aug. 13.
PGA Championship TV Schedule
Tee times for the 100th PGA Championship will be announced on Friday, Aug. 3, with live TV coverage starting on Thursday Aug. 9.
Here are the live TV times (all times Eastern):
Thursday, Aug. 9, 2 p.m.-8 p.m. (TNT)
Friday, Aug. 10, 2 p.m.-8 p.m., followed by a one-hour all-access golf special of The State Farm Showdown (TNT)
Saturday, Aug. 11, 11 a.m.-2 p.m. (TNT); 2 p.m. -7 p.m. (CBS)
Sunday, Aug. 12, 11 a.m.-2 p.m. (TNT); 2 p.m. -7 p.m. (CBS)

You can also watch online at PGA.com. There will be featured groups in the mornings and afternoons each day as well as featured holes, nos. 16, 17 and 18.
Golf Channel also will host its "Live From" broadcasts before and after the live TV coverage on tournament days and preview the tournament in the days leading up to the event with Golf Channel Analysts Brandel Chamblee, David Duval, Rich Lerner and Frank Nobilo. Outside of weather issues and a playoff on Sunday, the schedule will be:
Monday: 1 p.m.-4 p.m. and 7 p.m.-9 p.m.
Tuesday: 9 a.m.-4:30 p.m. and 7 p.m-10 p.m.
Wednesday: Noon-5 p.m. and 7 p.m.-9 p.m.
Thursday: 7 a.m.-9:30 a.m. and 7 p.m.-9:30 p.m.
Friday: 7 a.m.-10 a.m. and 7 p.m.-9:30 p.m.
Saturday: 8 a.m.-11 a.m. and 7 p.m.-9:30 p.m.
Sunday: 8 a.m.-10 a.m. and 7 p.m.-9 p.m.
(all times Eastern)