This story was upated on April 9, 2019.
So your son or daughter is showing an interest in golf, maybe even some natural aptitude for the sport. Whether your goals are to raise a champion (at some level) or simply introduce your offspring to the game of a lifetime, there is a program or two right for every child.
Of course, it's not easy to navigate all the options on your own, and there's no one answer for every kid. But there is opportunity, plenty of it really, and much of it for very little cost.
Here is a quick guide to those options, for the recreational junior to the serious player and in between:
Private junior golf programs
There are many ways to get your youngster started in junior golf, and you can do this as early as age 3, though that may be a little extreme for most juniors who don't go by the name of Tiger.
Private clubs often have their own junior programs, as do many public facilities. Even Topgolf offers junior summer camp programs, which is a great way to get your kids involved in golf, and there are other programs such as TGA Premier Golf which works with schools to teach golf to youngsters.
Regional junior golf programs
There are many great regional programs out there. One of the biggest is the original Little Linksters Association for Junior Golf Development in Central Florida. Designed for kids ages 3 to 18, it covers a wide variety of programs that include lessons and clinics at local golf courses, schools and community centers. For more experienced players, tournaments and competitive scheduling offers opportunities to test skills and become part of a team. No experience or golf equipment is required.
The Southern Texas PGA Section also has a Little Linksters program, but it is unaffiliated with the one based in Orlando, Fla. It's for kids 6 through 12. Beginners play just five holes from modified tees, and when they shoot a certain score, they can advance to as many as nine holes. There's no skill requirement to start, and golf course etiquette, scoring and some basic instruction is part of the curriculum.
Another great avenue for juniors is the PGA of America's Junior League programs. What's unique about Junior League is that it's team competition, not individually oriented. Patterned somewhat after Little League Baseball, the idea is to offer both boys and girls ages 13 and under of all abilities, golf competition in a recreational team setting with their friends. Much like other recreational youth sports, players wear numbered jerseys, utilizing a popular scramble format for competition. PGA and LPGA Professionals serve exclusively as captains, providing expert coaching and instruction. The kids even have an opportunity to advance via all-star teams to regional and national competition. In 2017, there were more than 36,000 participants, led by more than 2,000 PGA and LPGA pros nationwide. For more information on PGA Junior League Golf, visit PGAJLG.com.
And last, but certainly not last, there's The First Tee, which has been around since 1997 as a joint venture between the LPGA, Masters tournament, the PGA of America, the PGA TOUR, and the USGA.
A big part of the focus of The First Tee is to help junior golfers who otherwise might not have access to the game a place to play and learn the game and more importantly, life skills. The group's mission is to provide youth with educational programs that build character, instill life-enhancing values and promote healthy choices through the game of golf. Programs are delivered at golf courses as well as elementary schools (The First Tee National School Program) and at youth centers (The First Tee DRIVE).
With more than 1,200 programs around the country, most kids certainly have access to this low-cost program that doesn't turn away kids no matter what their economic status is. The First Tee offers group lessons to all youth ages 7-18, regardless of background or previous experience. All they ask at First Tee, is that "young people come with an open mind and positive attitude."
Years ago, it was common practice for juniors to start out with cut-down adult clubs. That practice is now frowned upon for a number of reasons, chief among them being that cut-down clubs are way too stiff for juniors.
Most major manufacturers such as TaylorMade, Ping and Tour Edge, for example, offer junior sets. And when your kid is just starting, you certainly don't need to put 14 clubs in the bag. But it's important to get clubs with the proper flex and length for your juniors.
One company that specializes in junior clubs is U.S. Kids Golf, which offers varying length clubs will shaft lengths and flexes appropriate for the height of junior golfers, not their age. A complete set of 10 clubs, including putter, driver and bag, can be had for well under $200 at U.S. Kids, while a beginner set with just a few clubs is below $100. The investment is well worth it.
U.S. Kids Golf has a clubfitting system designed to fit juniors as they grow.

---
First club to get for a junior golfer
By the way, the first club you should get your junior is a putter. Take them out on the green and let them putt, with or without formal instruction. While there's some debate on whether kids should learn short game or long game first, the green is where they can experience some immediate success.
On a significant side note, U.S. Kids Golf is also very involved in junior player development through its own instructional programs as well as tournaments on a regional and world level. Each year since 2005, there's the U.S. Kids World Championship, conducted at Pinehurst Resort in North Carolina. It's a weeklong experience that includes a parent/child tournament, three rounds of championship play and a one-day best ball tournament featuring the top 12-year-olds from the U.S. vs. the rest of the world on Pinehurst No. 2.
Junior competitions to enter
Little Linksters, ages 7-15: One of the things that's great about Little Linksters, PGA Junior League and First Tee is that they all prepare youngsters for playing in more advanced tournaments at some level. At some point, kids graduate from five- and nine-hole rounds to a full 18, and the competition can range from just having fun playing in tournaments to playing with serious college and even pro prospects.
Drive, Chip and Putt, ages 7-15: One of the more unique opportunities is the Drive, Chip & Putt competitions held throughout the country. A joint initiative founded in 2013 by the Masters Tournament, United States Golf Association and The PGA of America, Drive, Chip and Putt is a free nationwide junior golf development competition, open to boys and girls ages 7-15. It's aimed at growing the game by focusing on the three fundamental skills employed in golf. The coolest part about the whole thing? Those who advance through local, sub-regional and regional qualifying in each age/gender category earn a place in the National Finals, which is conducted at Augusta National Golf Club the Sunday before the Masters tournament, and it is broadcast live by Golf Channel. For more information about entering for 2019, click here.
Winners at the Drive, Chip & Putt Finals at Augusta National

---
Video: Favorite junior golf memories
---
Local golf associations, ages 7-19: Most major metropolitan areas as well as states operate junior golf competitions, and they can be quite extensive. For example, starting at age 12, my son played in the Houston Golf Association's junior program. Each event cost just $15, and they got to play on some of the best courses, both public and private, in the Houston area. At the end of the season, the HGA then conducts a Tournament of Champions, so there's ample opportunity for both boys and girls to hone their game for high school competition as well as higher levels of junior golf competition.
AJGA, ages 12-19: The next level of competition, though, would be the national American Junior Golf Association. It's for players ages 12-19 (as long as they haven't started college). Hundreds of PGA Tour players, including the likes of Jordan Spieth and Tiger Woods, honed their skills in these events as juniors. The competition is top notch. How it works is that players can sign up for an AJGA membership and start applying for tournaments. The fields are filled by what the organization calls Performance Based Entries (PBE), which is essentially used as currency used to get into events. Players can earn PBE Performance Stars through other state and local golf association events, as well as AJGA events. AJGA tournaments are conducted all over the country, and many of the top juniors travel quite a bit (usually with a parent or two). "The amount of travel really depends on a family's preference, tournaments the players are able to get into with their PBE stars and time of the year," said Michelle Hantak, communications manager for the AJGA. The AJGA also allows college coaches to look up player information and results, and the AJGA also invites college coaches to all its tournaments. Best of all, college coaches are often in attendance, especially at the high level tournaments.
National junior golf championships
There are couple national championships worth mentioning here. The PGA of America hosts Junior PGA Championships for both boys and girls.
Both the girls and boys of the PGA Junior Championships will be at Keney Park Golf Course in Hartford Conn. in 2019. The Girls Junior PGA Championship will be contested July 9-12, while the Boys will tee it up July 30-August 2. Each event features 144 players in a four-round, 18-hole stroke play format.
Competitors qualify by winning or finishing runner-up in one of 41 PGA section championships or through other exemptions (AJGA, USGA titles, etc.)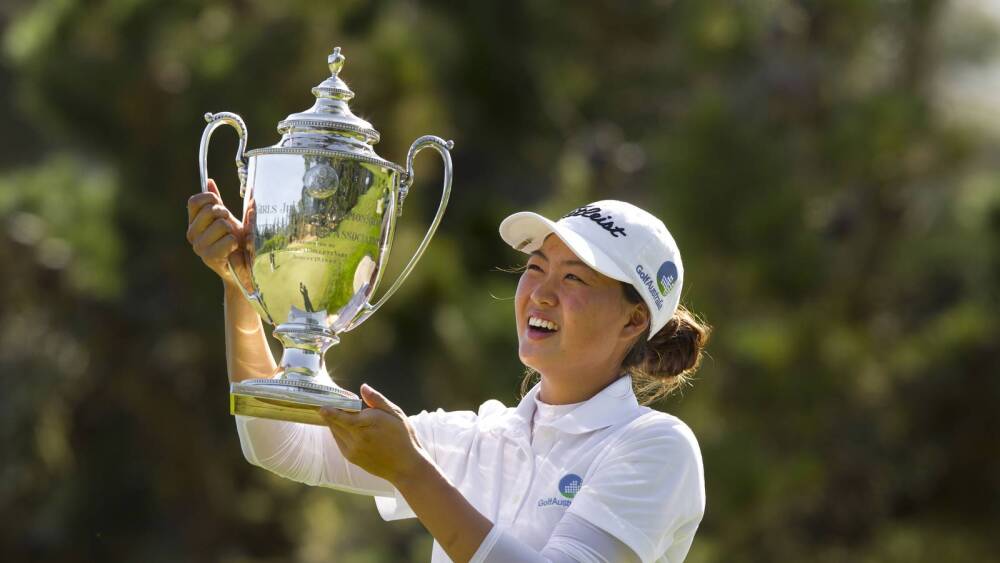 And finally, for boys and girls who are good enough, they can attempt to qualify for the U.S. Junior Amateur Championships.
The boys field for the U.S. Junior Amateur will be determined through 58 sectional qualifiers (maximum handicap index of 4.4) this summer, culminating with the championship at Inverness Club in Toledo, Ohio, July 15-20, 2019.
There are 41 sectional qualifiers scheduled for the 2019 U.S. Girls' Junior Championship, which will be played July 12-27 at SentryWorld in Stevens Point, WIsc. Both championships are determined by stroke play qualifying into a match play format for the finals.