We strive to always give you golf travel advice that is useful, to-the-point and honest.
But we're not one-trick ponies. We also pride ourselves on our keen eye for new product trends in golf, which is why we spent last week at the PGA Merchandise Show in Orlando.
We traversed the huge, circular practice area at Orange County National Golf Course for the pre-Show Demo Day, and then wandered the ten miles of carpeted aisles connecting the Show's thousands of exhibitors.
It's total sensory overload, and words can't do as much justice to the experience as photos. So here's a collection of pictures that will give you a sense of what it's like to be there.
Demo Day
Demo Day is an experience unto itself. Orange County National's 42-acre practice facility is centered around a massive, 360-degree driving range where the above photo was taken. Here are 25 more:
1. Nike trotted out this Iron Byron-like robot as the centerpiece of its Demo Day booth
2. PGA Tour pros are a fixture at the PGA Show. Bubba Watson was a major presence last week. Here he is taking photos with fans at the PING Demo Day booth.
3. Cobra/Puma love pushing a younger, hipper aesthetic at the Show. Here's a huge Red Bull truck at their booth, complete with a DJ spinning from it.
4. As you can imagine, thousands of golf balls are put into play on Demo Day. And because club companies that also produce golf balls like to keep their own product together, there's a huge sorting operation that takes place.
5. This year's PGA Show also featured some companies that look to provide golf-like experiences aimed at making the game more accessible. This is FlingGolf, a lacrosse stick-like contraption meant to help throw a golf ball. Do you think it will catch on?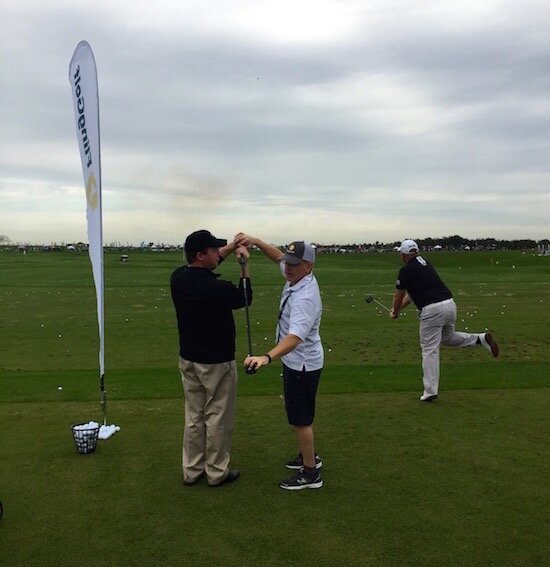 The Show Floor
After some near-perfect Demo Day weather, more than 40,000 of our fellow golf industry professionals took to the Orange County Convention Center to scope out more than 1000 exhibitors, from the big guys, to the up-and-comers, to the dreamers. Here are our favorite images from our wanderings--the good, the bad and the random...
The Good
6. Color us glad to see the Ben Hogan brand revived. Here's hoping they continue to make quality irons.
7. It seems the number of companies making fancy headcovers has exploded in recent years. Stitch's offerings particularly intrigued us at this year's PGA Show. These headcovers with monster faces are technically aimed at junior golfers, but we'll admit to wanting a couple for ourselves.
8. Oregon-based Seamus Golf makes headcovers, too, but what jumped out to us were their blacksmith-forged divot tools and ball markers that double as bottle-openers. Handy and attractive.
9. Of all the major club companies, I liked Titleist's booth the best. Its reps always wear wite blazers, giving them a classy look and making them easy to spot.
10. Where else can you expect to find Hank Haney, Jim McLean and Michael Breed sharing a stage and talking golf?
11. Edel may not be a household name, but their putters and wedges can be customized to a stunning degree.
12. It's good to dress well for the PGA Show, but the most important thing is to wear comfortable shoes, as this veteran golf writer demonstrated for us.
13. Another veteran tip: get your entry badge the day before the show opens -- this long line of people had pre-registered, but waited until "day of" to pick up their physical badges.
The Bad
There are always a few dozen exhibitors at the PGA Show who miss the mark somewhat, whether in the usefulness of their product, its presentation or their general vibe:
14. Booths range greatly in size, but even the smallest exhibitors strive for an eye-catching presentation. Not so for the "Best swing trainer in history." There wasn't even anyone manning the booth--only a stack of copies of some design for a swing aid. There's "minimalist," and then there's this.
15. We're not fans of mashing up a golf bag with a stuffed animal. We'll leave it at that.
16. Like FlingGolf, AeroGolf is yet another non-golf golf company. Let's just say we're not sold on archery as the future of golf.
17. The lunch rush at the PGA Show can be maddening -- to the point where the only available seat is literally "on the show floor."
18. Even funnier than the poor translation on this booth is the size of the golfer in the photo relative to the green he is putting on.
The Random
This final set of photos defies classification as either "good" or "bad" at the PGA Show. It's a tradeshow, but it's also a pretty interesting exercise in people-watching.
19. "Booth babes" are all over the PGA Show; numerous exhibitors aim to provide the majority-male attendees with eye candy to help draw their interest. Maui Jim offers hula girls...
20. ...while this exhibitor went in a space-age direction...
21. ...and Ray Cook Putters went with a camo theme.
22. Other exhibitors got in on the mascot act. Here's a gecko-person hawking putter grips...
23. ...and a wizard sharing the "magic" of a four-way putting cup...
24. ...as well as our favorite, a Rodney Dangerfield impersonator wearing Loudmouth Golf Pants.
25. Trendy glove and shoe company GFore had these mannequins outside their booth. We're not sure what this is meant to say about golf, but it's provocative nonetheless.
There you have it--the good, the bad and the random from the 2015 PGA Show. What are your impressions of the state of the golf industry? Any interesting items we missed? Be sure to let us know in the comments!