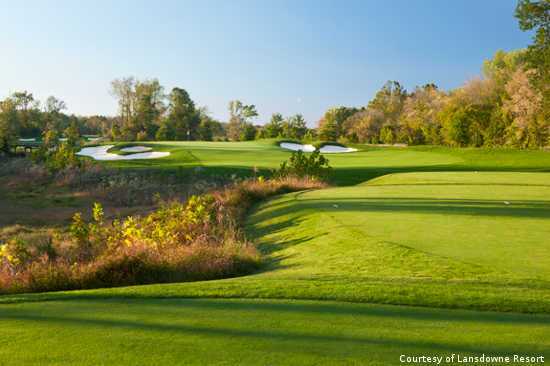 We're probably going to hear more creative claims during tonight's presidential debate, so today I'd like to give you one Washington, D.C. certainty:
The best golf resort near our nation's capital is Lansdowne Resort (www.destinationhotels.com/lansdowne-resort).
No other area property combines such high quality golf, comfort, and convenience under one roof.
For golf, you have a choice of two enjoyable and challenging 18-hole courses; one by Robert Trent Jones, Jr., and a tougher test by Greg Norman. They alternate daily between members-only and resort play.
There's also Norman's fun and player-friendly Sharkbite course, a nine holer consisting of par 3s and short par4s.
As for convenience, Lansdowne (located in Leesburg, Va.) lies within an hour of Capitol Hill, the Smithsonian, and the National Mall. It's also just seven miles from Dulles Airport and close to a number of local wineries and historic sites.
And while the resort itself is probably best known as a corporate retreat, Lansdowne also caters to leisure travelers with its golf, spa, fitness room, indoor and outdoor pools, tennis courts, and dining. The 20-year-old facility also underwent a major renovation about five years ago to give it a more contemporary look and feel (modern furnishings, flat-screen TVs, etc.)
My only bit of golf-related fine print -- and what would Washington be without it? -- is that the back of the property sits in a flood plain and saturated conditions (read: cart-path only rule) can linger after storms, especially on the Norman Course.
Do you have experience with Lansdowne or other Washington, D.C. courses/resorts you'd recommend?
Please share your thoughts or read what others are saying below.