What do thousands of Myrtle Beach-bound golfers know that you don't?
The thrill of competition. Amateur tournaments like the annual Myrtle Beach World Am and many others give players like you and me the chance to feel what the pros feel on a weekly basis.
(I played in the World Am a few weeks ago, to see what all the fuss is about, and let me tell you - it's the real deal).
If you tee it up in one of these events, you'll notice your heart pumping a bit more than it does in your weekly $2 Nassau. Plus, you'll get to meet fellow avid golfers and make new friends and lasting memories, which is part of what makes golf so special.
Bottom line: if you haven't played in one of these events, you're missing out. Let me show you:
Myrtle Beach World Amateur – Myrtle Beach, SC area
Traditional dates: late August-early September
Cost: $550-$650 (but be on the lookout for early registration discounts)
The Lowdown: The granddaddy of 'em all, this event attracted more than 3,400 amateurs from every state and more than a dozen countries in 2014 for its 31st edition. With more than 50 flights (one flight at the 2014 event was for golfers with indexes from 12.2 to 12.5!), more than 60 of the area's courses host tournament rounds. The winner of each flight advances to the Championship Round, with the lowest net scorer being crowned World Champion at day's end. Each evening of the tournament, the Myrtle Beach Convention Center turns into the "World's Largest 19th Hole," with food, contests and numerous open bars for competitors and guests (included with each player's entry fee).
Also, if you're concerned about sandbaggers, perish the thought—the World Am's organizers pride themselves on making sure the playing field is level. They've even disqualified would-be World Champs in the past due to handicap discrepancies WorldAmGolf.com
Las Vegas World Amateur – Las Vegas, NV area
Traditional dates: February
Cost: $750-$850
The Lowdown: Even though Las Vegas is bigger and glitzier by a comfortable margin than Myrtle Beach, the Las Vegas World Am is a relatively stripped-down affair. With a maximum of four tournament rounds rather than five, and a six-course rotation rather than a few dozen, it is nonetheless a "big" event by most standards, and one that attracts a loyal following. And with tracks like Bali Hai and Desert Pines appearing on numerous must-play lists of Vegas courses, it's a sure bet that you're going to enjoy the experience. VegasWorldAmateur.com
Mesquite Amateur – Mesquite, NV area
Traditional dates: May
Cost: $550-$650
The Lowdown: Do you like Nevada's mix of desert and mountain scenery but want to try to avoid the headache-inducing lights and aceaseless action of Las Vegas? Mesquite fills that desire nicely, and the Mesquite Am, now heading toward its 16th year in 2018. Keeping with the format of other similar events, players play three tournament rounds (over seven courses, in the case of the Mesquite Am) and can advance to a fourth, the "Championship Round". Other layouts used could include the Jack Nicklaus Signature-designed Coyote Springs, the Arnold Palmer-designed Oasis Golf Club and one of the area's newest challenges, Conestoga. casablancaresort.com/golf/mesquite-amateur/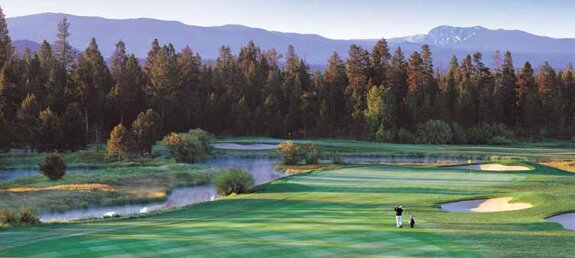 Lithia Pacific Amateur Golf Classic – Bend and Sunriver, OR
Traditional dates: September.
Cost: $500-$600
The Lowdown: We admit that timing may be more than a little tight for this year's "Pac Am," but with about 400 players set to tee it up for three days at six courses in the Beaver State, it should definitely be on your radar for next year. Given that September high temperatures in Bend average about 74, with little threat of precipitation (it's the driest month of the year, on average), we can scarcely think of a massive amateur golf tournament that will offer better weather than the Pac Am. PacAmGolf.com
The Broadmoor Invitation
Traditional dates: July
Cost: $4,000-up (player and non-playing guest; player handicap limit of 12)
The Lowdown: Given its history, positioning as an invitational event, and pricing compared to the other events here, The Broadmoor Invitation is quite the special event. But considering the site is one of America's best golf resorts, the fact that accommodations are included (unlike the other events) and the extras beyond the four days of golf (opening and closing dinner and reception, a cookout one evening, a wine tasting the next, a culinary demonstration the following day, a guided history tour of the resort, a $50 spa credit per person), it's easier to reconcile the price tag. If you've ever wanted to splurge a bit and are curious about the Broadmoor, I can think of no better way to experience the resort. broadmoor.com/activities/golf/broadmoor-invitational/
NEWCOMER: Myrtle Beach Fall Classic – Myrtle Beach, SC area
Traditional dates: November
Cost: $650 per team (two-person event)
The Lowdown: A brand-new event launched in 2014 because of the success of the late-summer Myrtle Beach World Am, the Fall Classic sold out in 2017. The two-person team competition features a course rotation that includes the best courses the Grand Strand has to offer, from Caledonia and True Blue to TPC Myrtle Beach to two of Barefoot Resort's four acclaimed layouts. MyrtleBeachFallClassic.com
Have you played in any of these tournaments or others like them? Know of other great amateur events we missed?
Please share your thoughts or read what others are saying in the "comments" below.