If you're reading this, chances are you're not a tour player.
So why the heck are you playing an effectively much longer golf course than those players?
That's the question being asked by Arthur Little and Jann Leeming, who might just be the most important figures in golf you've never heard of.
This husband and wife have the ear of some of the world's greatest golf resorts.
As a result, they're helping make sure your next round - on vacation or at home - will be even more fun than you could have imagined...no gimmicks required.
Why are these two so influential? Let me explain.
My dad is a 10-handicap, but he averages "only" about 200 to 220 yards off the tee.
Even when he plays from the 6,300-yard tees, he's forced to hit long irons, hybrids and fairway woods into almost every par three and par four.
Does that sound like fun to you?
Me, neither.
But that's the type of torturous golf experience that millions of amateur golfers put themselves through by playing the wrong tees.
Little and Leeming know all too well that golf is supposed to be fun - especially when you're on an awesome golf vacation (or just playing at home), rather than playing it for a living.
They have been key voices regarding one of the most important elements of some of the world's most famous golf courses: tee boxes, and why they might be the key to getting existing golfers to play more golf and getting new golfers into the game.
I had a chance to speak with Arthur Little a few weeks ago, and here's what I learned:
Bottom line: "Tee It Forward" is not just a slogan - it's a philosophy both golfers and golf courses need to adopt.
Yes, people have been criticizing the USGA lately over a couple rules-related controversies at this year's U.S. Open and U.S. Women's Open.
But they were on the right track when they instituted the "Tee It Forward" campaign in 2011, encouraging golfers to move up a set of tees to shoot lower scores and make the game more fun and welcoming to new players.
But that responsibility does not lie with players alone.
Little believes golf facility operators and superintendents need to set their courses up in a way that makes the game more fun.
One of Little's guiding principles is that on too many golf courses - especially older ones - the front tee boxes are an afterthought.
For anyone who doesn't hit the ball very far (beginners, seniors, etc.) tees of 5,500 yards or longer are still just too long and difficult. And yet they've been commonplace. Until now.
Mike Keiser, owner of Bandon Dunes Golf Resort, agrees.
After reading a paper that Little and Leeming published about proper tee positioning in 2007, Keiser applied their concepts to his Old Macdonald course during construction in 2010 (and to the resort's other courses, retroactively).
You won't find the traditional Black-Blue-White-Gold-Red tee marker color scheme at Bandon. Instead, the four main courses' markers are Black, Green, Gold, Orange and Royal Blue.
And at Bandon, all four courses' individual tee sets fall in a pretty tight range of yardages:
Black: 6,633 - 6,944 yards
Green: 6,124 - 6,320
Gold: 5,658 - 5,775
Orange: 4,985 - 5,100
Royal Blue: 3,827 - 4,040
Why the different color scheme?
According to Little, the association of "red tees" with "ladies' tees" is not a myth - it is actually stronger than most people think.
By doing away with the traditional tee marker color schemes at courses he's worked with, he and Leeming have noticed golfers putting aside arbitrary prejudices and moving to more suitable (i.e. shorter) tees, shooting lower scores, having fun and - perhaps most importantly of all - coming back more often to play. Juniors, ladies and men all enjoy the Royal Blue tees at Bandon.
And even though the Royal Blues are shorter, golfers still get the "full" experience of playing the Bandon courses.
Take the par-3 fifth hole at Pacific Dunes for example. It plays 181 yards from the Green tees and 115 yards from the Royal Blue set - an approximately 65% scale for the hole, which is mirrored in the course yardages throughout the Bandon Dunes courses and others where Little and Leeming have consulted.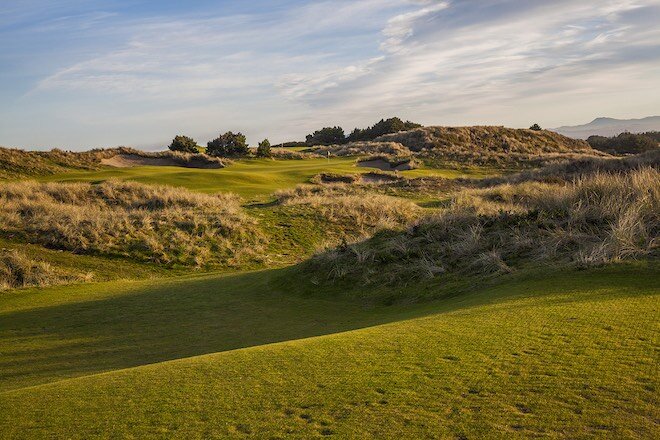 That latter tee is set at an angle that allows shorter hitters, who don't generate as much backspin as stronger players, to run the ball up onto the green.
But, they still have to take care to avoid architect Tom Doak's cleverly placed bunkers. The hole may be shorter, but it is by no means a watered-down experience, as so many other front tees are at other courses.
Keiser was so impressed by the positive reception to the work at Bandon that he asked Little to consult on proper tee placement at his other properties.
The duo have also helped with tee arrangement at Cabot Links and Cabot Cliffs, the vaunted Keiser-backed resort in Nova Scotia, making sure tee boxes are set at intervals that will be enjoyable by all visitors.
The same is true at Keiser's newest resort, Sand Valley in central Wisconsin. But rather than retrofit front tee boxes the way he did at Bandon, Little has assisted architects Bill Coore & Ben Crenshaw from the outset in making sure the course will provide plenty of fun, as well as challenge, from day one. They are also assisting David McLay Kidd on tee placements for the second Sand Valley layout.
Mike Keiser's courses are by no means the only ones to benefit from Little and Leeming's expertise. They are just the latest in a project that began some 20 years ago.
Back in 1996, the couple became the owners of Province Lake Golf Course in southwestern Maine.
They noticed that despite the course's relatively modest length at 6,336 yards from the back tees, a lot of golfers seemed to struggle to get around the course, especially from the front sets of tees.
So in 2000, they repositioned and rebuilt 36 tee areas throughout the course, aggressively shortening some holes from the front tees. The new tee yardages rung in at 5,900, 4,900 and 4,169 yards, respectively.
The share of rounds played by women rose from about 15% to about 35%. Rounds by junior players rose from just a handful to about 7%, many of them new golfers.
Overall, the course's total annual rounds increased from about 8,000 to more than 20,000.
Little sold the course in 2005, but to this day it remains a successful public facility in an area of relatively low population density.
Just a couple weeks ago, Province Lake hosted its second annual Ladies of the Lakes golf tournament. 82 women golfers turned out.
The most tangible effect: now, pace of play is never a problem at Province Lake.
A number of buzzwords surrounding the concept of "growing the game" are thrown around constantly these days. But Arthur Little and Jann Leeming are among the few people in golf who have put a concrete plan into action and succeeded. As a result, they've been able to spread a great idea to many course operators and thousands of their fellow golfers.
But until Arthur Little and Jann Leeming visit your favorite course, here's what you can do to have more fun. (First, figure out your driver swing speed.)
The front-tee yardages that Arthur has helped courses settle on do not come out of thin air, but from a system he's developed over years of study of the average recreational golfer.
That system encourages golfers to choose what tees they play based not on how far they drive the ball, but their average swing speeds.
Now, before you protest, "But that's two versions of the same thing!", consider that the vast majority of golfers vastly overestimate their true driving distance capabilities. Just because you may hit one glorious drive per round 250 yards doesn't mean your true average driving distance isn't closer to 220 yards.
Swing speed, on the other hand, can be measured much more easily and accurately, and it doesn't change from round to round.
A lot of avid male "core" golfers seem to have swing speeds of between 85 and 90 miles per hour, which means they should be playing a set of tees no longer than 6,000 to 6,200 yards, depending on turf and weather conditions.
For instance, Bandon Dunes' Green tee yardages push a little higher than this range, but given the firm turf found there, players tend to get some extra roll on their tee shots, making the courses play shorter than their yardages indicate.
Does your swing speed push toward or past 100 miles per hour? Feel free to move back a bit, but don't overdo it.
Do you struggle to get above 80 or 85 miles per hour? Tee it forward! And if you find yourself stuck between markers, err on the shorter side or make your own hybrid set of tees. You'll have more mid- and short-irons into greens, more par and birdie chances and more fun, while still experiencing all the challenge a round of golf throws at you. Who wouldn't want that?
After all, you're playing golf for fun, not a living. So why make it harder than it needs to be?
Do you "tee it forward" on a regular basis? Does your home course need to rethink its forward tees? Can this movement/philosophy help attract and retain new golfers? Let us know your thoughts below!