You probably don't need us to tell you this but...
The Scotland golf scene is one of the very best in the world.
Scotland is home to a number of the world's most famous courses - the Old Course at St. Andrews, Kingsbarns, Muirfield, Prestwick, Carnoustie, Turnberry, Royal Dornoch and others.
But it is also home to more amazing "no-name" courses than anywhere on earth.
These are courses that will challenge you and charm you to no end. They are layouts you would gladly play multiple times during a trip, and you might even find you prefer them to some of the "brand name" tracks on the Auld Sod.
What if I were to tell you that you could become a member of some of these clubs for less (or not much more) than the cost of a single round at one of the big names, and at a fraction of the cost of membership at your nearest private club?
It sounds insane, but if you live overseas but love visiting Scotland to play golf, it's absolutely true...
Crail Golfing Society - Crail, Fife
Crail flies under the radar because it's only about 20 minutes south of St. Andrews. But it claims to be the 7th-oldest golf club in the world, and boasts two courses: the Balcomie Links, designed by Old Tom Morris and featuring a number of holes on the water; and the Craighead Links, an early design by Olympic course designer Gil Hanse. Overseas members are eligible to play four rounds on each course per year, plus other perks such as four tickets for guests to play the Crail courses for £15 each, reduced green fees at more than a half dozen nearby courses, a 10% discount on pro shop merchandise, a lesson with the club pro and more.
Cost: £167 initiation fee + £127 annual (not monthly) dues
Panmure Golf Club - Carnoustie, Angus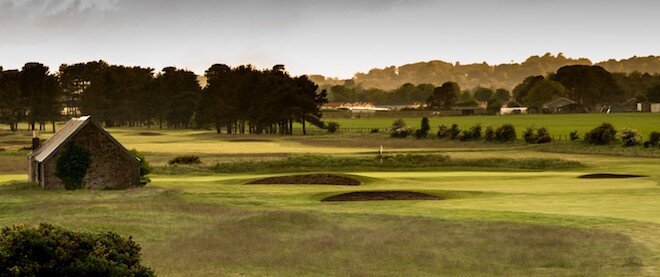 Panmure is located literally around the corner from Carnoustie, and its grounds border those of Monifieth (see below), another underappreciated old links course. The club dates back to 1845 and the course has a classic out-and-back routing with solid but flattish holes near the clubhouse and an absolutely stunning dunescape for the middle part of the round. The 14th hole plays along the local rail line, for goodness' sakes! How much more classically Scottish can golf get?
Cost: £200 annual dues, inclusive of a £50 bar "levy" (similar to an American club's minimum)
Monifieth Golf Links - Dundee, Monifieth
Monifieth is 13 years younger than Panmure, and has two courses - the Medal Course, which held final qualifying for the 2007 Open Championship, and the Ashludie Course, which, at a par of 68 and just more than 5,000 yards is a sporty compliment to its big brother. Membership includes 50% discounts on green fees at more than two dozen other courses in the area
Cost: £240 annual "Links ticket" dues (four clubs share the Links' two courses and can be joined for an additional fee)
Fraserburgh Golf Club - Fraserburgh, Aberdeenshire
Just as numerous American restaurants claim to have invented the hamburger and other foods, historical status can be a point of contention for golf clubs. Fraserburgh, like Crail, claims to be the 7th-oldest golf club in the world. Whether this is true or not is of little importance relative to the high quality of the golf course. It is the first course on this list outside the general sphere of St. Andrews, but Aberdeen is a Scottish golf haven in its own right. A more remote Scottish feel, a huge expanse of dunes, stacked-sod bunkers and bouncy turf - it's all here. Membership includes reduced green fee privileges at three area courses as well as the dozens of other member clubs of the Association of James Braid Courses.
Cost: £145 annual dues
Murcar Links Golf Club - Aberdeen, Aberdeen City
Murcar is home to 27 holes: the Murcar links (which has held such competitions as the European Challenge Tour's Scottish Challenge and the European Boys Team Championhsip) and the nine-hole Strabathie, which makes for a delightful prelude to a round on the big course or a warm-down after one. This club's dues for international members are the highest on this list, but with high regular visitors' green fees, it is still a terrific value.
Cost: £500 annual dues
Scotland is not alone in offering incredibly affordable overseas memberships. In Wales, Aberdovey Golf Club, which Golfweek ranks in the top 50 classic courses in the UK and Ireland, offers international memberships for £300 per year.
At Burnham & Berrow, one of southwest England's most underrated links courses and host to the 2006 English Amateur, overseas membership is £370 per year, and grants access not just to its Championship Course but the nine-hole Channel Course as well.
If you're a frequent visitor to Ireland, Enniscrone Golf Club in County Sligo offers overseas memberships for €300 per year, and with the normal green fee on its championship Dunes Course registering at €110 for the year, anyone who falls in love with the course will recoup their annual investment very quickly.
Are you an overseas member at one of the UK and Ireland's many spectacular courses? Let us know about the experience!
Know of any other incredible overseas/international membership rates out there? Let us know below!