We're taking a wild guess here: you're probably going to be doing some traveling this holiday season or winter.
In the pre-smartphone era, you would have been packing your bags full of maps and guide books and even still, there would be tons of incredibly useful information you'd probably be missing out on.
Things like where to find gas (and find it cheapest), how to take an alternate route around construction or traffic, how best to keep travel costs down, how to book a new hotel after finding your initial one stinks (literally or figuratively) and, for golfers, what underrated golf courses might be in the area should you decide to play 9 or 18 in the middle of your road trip...
Sure, the "old ways" could take care of a lot of the basics. But the nuances? Hardly.
Luckily, you now have something in the palm of your hand - a smartphone - that can help turn your travel, for golf and in general, into as efficient a voyage of discovery as you want. So we got together with some of the most experienced golf travelers we know to come up with some of their most-valued travel apps. Here are their favorites:
Evernote
This is one of our favorite apps for anyone - travelers, businesspeople, creative types. Evernote essentially works as a digital desktop, notebook and calendar, all rolled into one. For travelers, the ability to save things like travel itineraries and store them off-line means that you'll be able to pull them up even in places where cell phone coverage and wi-fi are spotty or nonexistent.
Skyscanner
Anytime we hear about a new or newly-renovated golf course or resort, we instinctively pull up Skyscanner to check airfares to and from that area. The app's interface is incredibly simple - just punch in your dates and your departure and arrival airports or cities (e.g. you can search "Houston (all airports)" and you'll see airfares to both George Bush International and Hobby) and the app will search for the lowest fares across all airlines. We don't generally book through the app, but that functionality exists.
GateGuru
Once your itinerary has begun, consider TripAdvisor's GateGuru your main source of information from airport to airport. You can enter your itinerary and receive notifications about delays or gate changes, and if you have some time to kill in the airport, the app is a comprehensive source of shops and restaurants. And if you're a frequent traveler, you can see how your own travel habits stack up with fellow "High Flyers."
GasBuddy
It can be frustrating to finish fueling up and then pass a station with prices 10 or 20 cents lower per gallon. GasBuddy presents an easy-to-navigate map of nearby gas stations and prices. And for those who aren't fans of pre-paying for gas when they rent a car, GasBuddy it perfect for finding the gas station closest to the airport.
Packing Pro
This app is perfect for those of us who always seem to forget something, no matter how diligently we've packed. It offers an easy checklist format and comprehensive built-in lists, both of pre-trip tasks and must-pack essentials. It costs $2.99, but if you've ever forgotten to pack something like an electric razor or a tube of toothpaste, it will pay for itself in no time. (Note: only available on iPhone and iPad)
And for killing some time on your travels...
Flick Golf/Flick Golf Extreme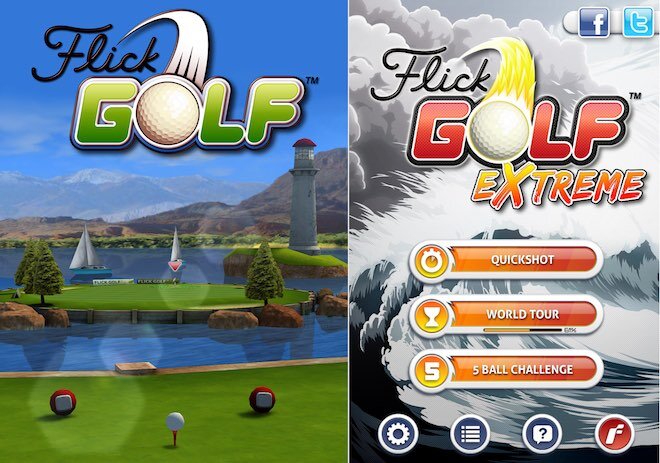 It's not as wonderful as playing the game for real, but this 99-cent app can help pass the time on the plane or in the car on the way to your next golf destination with nice graphics and a number of exotic and fantasy-style courses to play. Instead of counting strokes, the games tally points, giving it an air of arcade fun rather than super-serious golf imitation.
What are the travel apps you can't live without? Give us your best recommendations below!