Harbour Town Golf Links is one of America's most historically significant golf courses. That may be an odd claim to make of a course that opened in 1969. But Pete Dye's low-profile, high-intellect resort layout at the southern tip of Hilton Head Island established a valuable alternative to the prevailing golf course design style of the day.
America's postwar boom led to an explosion in golf's popularity, with thousands of golf courses built in the quarter-century following. In that time, Robert Trent Jones, Sr., became the preeminent American golf architect. Jones' courses tended to be stately and muscular, with large features and impressive built-up shaping.
Meanwhile, Pete Dye came into his own in the 1960s. Inspired by a trip he and Alice, his wife and constant collaborator, took to Scotland in '63 left an impression that would reverberate throughout his career. Dye's best early courses, like The Golf Club near Cleveland, Ohio, and Crooked Stick near Indianapolis, tended to keep their features close to the ground, and often attempted to export some of the sense of mystery and quirkiness that makes the greatest links so beloved. Dye's trademark wooden railroad ties are a nod to the likes of Prestwick in Scotland, and his pot bunkers an homage to dozens of great overseas courses.
Harbour Town made Dye a household name in myriad ways. It made its debut under PGA Tour conditions, opening just in time to host the tournament we now know as the RBC Heritage, one of the tour's longest-running stops. In Dye's corner was Jack Nicklaus, then still in the prime of his playing career. The experience of advising Dye on aspects of the design sparked the Golden Bear's own interest in design, leading to a career spanning more than 400 courses around the world that continues to this day. Other high-profile players like Arnold Palmer followed suit, and the age of "signature architects" was born.
In practically every way, Harbour Town broke with convention. Whereas many contemporaries labored to define all major features of a golf hole, Dye trafficked in subtlety at Harbour Town. Most of its tee boxes stay low to the surrounds. The small greens often flow out of fairways at grade. Some bunkers are visible while others - usually the ones a golfer will most want to avoid - are not. Fairways are narrow but almost always winding in one direction or another; even the seemingly straight holes reward one shot shape or another. The trees that line most of the corridors have high canopies, giving observant golfers a little more room to operate than they may think at first while making most holes feel like large rooms. The course is a joy to walk; green-to-tee distances are short, thanks to the restrained housing plan that surrounds the layout.
Distance-wide, Harbour Town has always been on the short side, measuring less than 6,700 yards when it opened. It stretches to nearly 7,200 yards nowadays, but by prioritizing shot-shaping and finesse over brute strength, it manages to be a relevant test for the best golfers, while its relative paucity of forced carries and open green fronts makes it playable even for high handicappers. Many PGA Tour courses are simply too hard for anyone with a handicap higher than 10. Harbour Town is great for all.
Hole No. 1 - Par 4, 410 yards
Pete Dye was a master of introductions. His first holes typically are not difficult, but they have character and establish the main themes of the course to come. Harbour Town's opener greets golfers with a tight corridor of pines with a high canopy that proceeds straight to the green. As is often the case, something beyond the apparent is required. Even being slightly left of center off the tee can force a high hook approach over and around trees, so the play is a slight fade with a fairway wood to the right half of the fairway. From here, the player can concentrate on finding the first of Harbour Town's typically small greens. This one is slightly elevated and tilts almost imperceptibly from front to back.
Hole No. 2 - Par 5, 550 yards
A new tee just off the first green added more than 40 yards to this hole in 2022, but it remains the most gettable of Harbour Town's three par fives. A shallow, 60-yard long fairway bunker borders the left edge of the landing area. Placing a tee shot close to it opens up the green, which will accept a running slight fade with a fairway wood or long iron. A 3-3 start is in the cards, and can set a player up for a special round.
Hole No. 3 - Par 4, 469 yards
The interplay between what a golfer can see and what is hidden is key to the genius of Harbour Town. The approach to this longish par 4 is a masterclass in it. At first look, a fronting bunker nearly the same size as the green commands most of the attention, with some reserved for two rear bunkers. But what is less apparent is the real hazard: a much deeper bunker astride the right-center of the green with a grass face that conceals the sand from view. The discomfort of knowing it's there but not seeing it adds the sort of seed of doubt into a golfer's mind that Pete Dye could plant at will.
Hole No. 4 - Par 3, 200 yards
Water pops into play for the first time in a big way here, with a lagoon that widens from the tee to wrap around the left half of the heart-shaped green. A rise on the back side of the putting surface can come in handy to contain shots that fly a little too far, although a shot that careens over this contour leaves a terrifying pitch back toward the water.
Hole No. 5 - Par 5, 569 yards
This three-shotter heads hard left about 295 yards from the tournament tee. The green complex, moved by Dye in 1999 to its current spot, rises up slightly above its surroundings. In many cases, playing from the flat-bottomed left greenside bunker can be preferable to pitching from the closely-mown grassy low area to the right. Sometimes a bailout isn't really a bailout.
Hole No. 6 - Par 4, 419 yards
After five greens that mostly want to repel shots, the sixth is a bit of a concession to players who put themselves in position to attack the flag off the tee. Hole locations in the middle third of the green can be friendly, as both sides of the 32-yard deep green want to funnel shots inward. Of course, this means that if you miss the green pin-high to either side, you'll have worse problems than usual.
Hole No. 7 - Par 3, 195 yards
The second of Harbour Town's sterling quartet of par 3s is the least likely to yield a water ball, but there is plenty to think about anyway. A large bunker with skinny reaching fingers surrounds the green while two appealingly gnarly live oaks guard the front of it like Lowcountry gargoyles. A new tournament tee on a pedestal of slanted railroad ties can make this hole play well over 200 yards.
Hole No. 8 - Par 4, 473 yards
The longest par four (by a yard) on the course is also the simplest-looking, but as is often the case, there's more than meets the eye. From a nearly 100-yard-long runway tee that reaches back into the forest, the fairway curls gradually left, inviting players to rip a majestic draw. Past the 300-yard mark or so, though, players will have to be precise if they want a clear shot to the small, minimally-defined green. Anything well-hit but right of center will need to contend with a large live oak in a sandy waste area. Despite the length of the hole, many players will sacrifice yards off the tee for a comfortable look from the fairway with a longer iron. Par is a good score on this, the first of a run of six splendid two-shotters in a row.
Hole No. 9 - Par 4, 332 yards
Pete Dye never intended this hole to be drivable, but it is a rare example of a par 4 where the steady increase in hitting distance has brought new forms of intrigue to bear. The boomerang-shaped green is functionally impossible to hold from 330 yards downrange, especially since there's a trench bunker across the front of it. But that doesn't stop certain bombers from trying to fit their round ball somewhere around the angular surface, which sloughs off into the most diabolical bunker on the course, a tiny pot back-center. Better to pick one's favorite wedge yardage and get a long iron or hybrid to there from the tee. Birdies are not uncommon here, but neither are frustrating bogeys and worse.
Hole No. 10 - Par 4, 451 yards
There's water down the left, but the generous corridor of fairway, including a sneak-peak of what's to come in six holes, makes the tee shot on 10 arguably the least stressful full swing of the round. The rear portion of the long, slender green shares some characteristics with the funnel-like sixth green, too. It's one of the longer two-shot holes, but it's also one of the kinder ones on the course.
Hole No. 11 - Par 4, 436 yards
Back into the trees we go for a demanding, narrow mid-length par 4 where there's about an 8-yard wide avenue of fairway from which a player won't have to work the approach shot in one direction or another. Kin to the third hole, once again, Dye plays tricks on the golfer with the greenside bunkering. Of the four that flank the right side of the green, the most consequential one is hidden from view, sunken a couple of feet deeper than its companions.
Hole No. 12 - Par 4, 430 yards
If there is a point where Harbour Town might stand a nitpicky criticism, it's here; this tee shot is very similar to the previous two, albeit bearing right whereas the others bear left. Still, it's a brief and minor concern, as the wandering putting surface - the deepest on the course at 41 yards - is a fascinating one, reaching around an imposing left bunker.
Hole No. 13 - Par 4, 373 yards
One of America's great non-drivable short par 4s, the 13th is a quirky, stunning original creation. The tee shot is all placement, where both distance and line must be precisely calibrated in order to result in an approach unhampered by tree limbs. The broad slopes carved out of the landing area ensure that there are few flat lies, even from the preferred approach spots. The perched green juts forward into a huge bunker rimmed with railroad ties, a hazard that has graced magazine spreads for decades. Because of the way it requires precision and shrugs away shots played without the utmost care, this hole will always be relevant and challenging to even the world's best golfers. It caps off Harbour Town's run of six straight two-shotters in brilliant fashion.
Hole No. 14 - Par 3, 192 yards
After a baker's dozen holes characterized mainly by subtlety, with difficulty often coming via quarter- and half-shot penalties for mistakes, Pete Dye grows tired of being polite. Yard-for-yard one of the hardest par 3s in the world, this hole might as well have an island green, with water right, short and long and a small bailout area left. Golfers face a terrifying bit of clarity on the tee: make your most committed iron swing of the round, or else.
Hole No. 15 - Par 5, 588 yards
Originally envisioned as a no-doubt-three-shotter, this hole has evolved as equipment has enabled players to take a crack at the green in two. As a result, the putting surface has been enlarged, with Dye adding a lower-left section in 1999, where an exciting funnel hole location can be used. The tee shot is also more complicated now, as anyone looking to get home in two needs to rifle an arrow-straight drive down the right side of an already narrow fairway.
Hole No. 16 - Par 4, 434 yards
Many great golf courses explore one particular type of environment. After 15 holes teetering between intimacy and claustrophobia, Harbour Town flips the script as the golfer explodes out onto an open expanse of tidal marsh upon arriving at the landing area of this hole, whose wide fairway boomerangs to the left around a long, broad bunker. Church Pew-like ridges have been added to this sandy expanse in recent years to give it a little more teeth. A tree in the fairway 320 yards off the very back tee tempers the instincts of bombers to celebrate the wider landing area by swinging for the fences. The correct spot from which to approach the green can change depending on the day's hole location.
Hole No. 17 - Par 3, 198 yards
One of the most beautiful par 3s on the eastern seaboard, this is where any wind off Calibogue Sound is likely to smash golfers across the face, turning an already small green into a truly tiny target. Two tee areas can create different angles to the green, depending on wind direction and hole location. Even from a forward tee, the shot can be daunting.
Hole No. 18 - Par 4, 472 yards
After 17 holes of intimate, closed-in golf, the sight of the 18th hole's 90-yard wide fairway, jutting out into the marsh overlooking Calibogue Sound, is jarring. After four hours of concentrating on making precise controlled swings, the notion of swinging away a little bit is uncomfortable, especially knowing the landing area is so vast that missing it will make any player look very silly. This last bit of gamesmanship, followed by another demanding approach to a tiny target, solidifies Harbour Town's status as a brilliant physical and a mental test.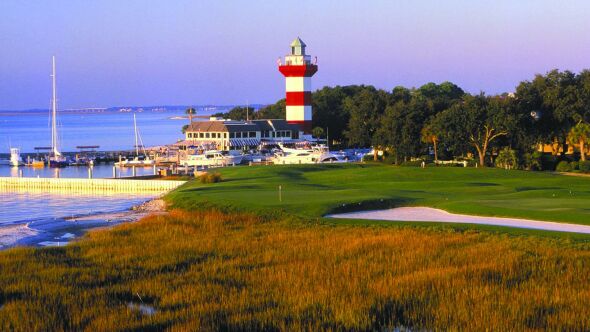 Hilton Head Island, South Carolina
Resort
5 Min Read
April 6, 2023
Mike Bailey is no stranger to Hilton Head Island-Bluffton and ranks his favorite courses to play.
8 Min Read
November 14, 2022
Harbour Town Golf Links is timeless, while Palmetto Dunes' lodgings and other on- and off-island golf courses offer solid value for a golf vacation.