Golf has always been more than just a form of recreation or competition for those who tend to dig deeply into their interests. The history of golf courses in America runs right alongside the last century-plus of American History, with different courses representing not only their eras within the game's niche, but also pointing to broader movements and happenings around the country, from the Great Depression to the social media age.
If you like a little something extra with your golf, and your interests span the last century-plus, you should put these 10 historically significant golf courses on your bucket list.
5 historic classic (up to 1960) golf courses you can play
1897: Atlantic City Country Club - Northfield, N.J.
One of the very first resort golf courses ever built, Atlantic City Country Club was first organized by area hoteliers as a place for their guests to play golf, which was a new game in the U.S. at the time. In a time before automobiles, golfers would get from the beachside hotels to the course, set on the inland side of Lakes Bay, via trolley line. In 1903, a visitor knocked an approach shot stiff on the 12th hole and one of his playing partners called it "a bird of a shot." Thus, the term "birdie" was born. Atlantic City also claims to be the origin of the term "eagle," and the first event on what is now the PGA Tour Champions was contested there. Tom Doak's restoration work in 1999 gave the course, which is accessible to non-members, great new life.
1907: Pinehurst No. 2 - Pinehurst, N.C.
Decades of care went into making America's largest golf resort's best golf course as great as it is today, including some 40 years of oversight by original architect Donald Ross, who lived next to his masterpiece of the Sandhills. Pinehurst helped pioneer the multi-course destination paradigm that endures to this day. Its track record of hosting great championships, including its current status as one of the USGA's "anchor sites" for the U.S. Open, makes it one of the country's museum-piece golf courses and one of its most enduring tests.
Pinehurst, North Carolina
Resort
1919: Pebble Beach Golf Links - Pebble Beach, Calif.
Samuel F.B. Morse turned a stretch of California's Monterey Peninsula into areal estate bonanza, and he conscripted Jack Neville and Douglas Grant to add a spectacular clifftop golf course to the list of amenities for prospective residents. In 1929, Bobby Jones helped put Pebble Beach on the map when he won the U.S. Amateur held there. Just over a century after its founding, Pebble Beach is a bucket-list stop for golfers around the world, and set an example for other destination courses to aspire to.
1936: Bethpage Black - Farmingdale, N.Y.
The Great Depression rocked the lives of millions, and the U.S. government took action in many ways, including with public-works projects that brighten the lives of Americans to this day - dozens of golf courses among them. The courses of Bethpage State Park are part of that history, including the mighty Black, thanks to both architect A.W. Tillinghast and then-park superintendent Joseph Burbeck. Rees Jones renovation of the course ahead of the 2002 U.S. Open was another historic event, as it kicked off the modern "Munaissance" and showed that a municipal golf course could be just as stern a major championship test as the many private courses that have traditionally hosted the U.S. Open and PGA Championship.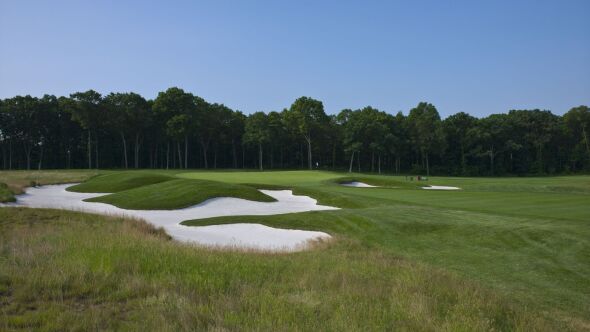 Farmingdale, New York
Municipal
1948: The Dunes Golf & Beach Club - Myrtle Beach, S.C.
It is hard to imagine that the place known as Golftown, U.S.A. was a relatively anonymous beachside community as recently as 75 years ago. After Pine Lakes Country Club established golf in Myrtle Beach in 1927, the Dunes made it a destination when it opened 21 years later. The Dunes also helped catapult Robert Trent Jones, Sr. to notoriety as the architect of record for dozens of notable post-World War II golf courses amid the game's explosion in popularity.
Cobbs Creek Golf Course (1916): Mother muni
Greater Philadelphia is home to one of the world's strongest collections of private golf courses, but its city course stands out as an example of America's greatness in golf. Opened in 1916, it is one of the country's oldest public-from-the-beginning course, envisioned as a city amenity in the heart of 340-acre Fairmount Park.
Cobbs Creek's spirit of inclusivity makes it one of the most important places in the Black American golf history. Since its inception, it has stood in stark contrast to the many courses that called themselves public but for decades remained places of segregation.
After decades of benign neglect, Cobbs Creek is embarking on a massive restoration care of Gil Hanse and Jim Wagner, with other programs and amenities planned to help make it not just a haven for golfers but a community center. One piece of that puzzle: a new TGR Learning Lab, which will give school-aged kids enhanced access to STEM programming as part of Tiger Woods' philanthropic efforts. The golf course is expected to reopen in 2025 or 2026.
5 historic modern (since 1960) golf courses you can play
1969: Harbour Town Golf Links - Hilton Head Island, S.C.
Pete Dye was still finding his footing as an architect when he got the commission to lay out a course in the middle of Charles Fraser's Sea Pines development. He had quite an ally in his corner: Jack Nicklaus, whose initial foray into golf architecture as a consultant to Dye at Harbour Town would springboard the Golden Bear to more than 400 courses worldwide designed under his imprimatur. Harbour Town inspired other notable players to get involved in the making of golf courses, too.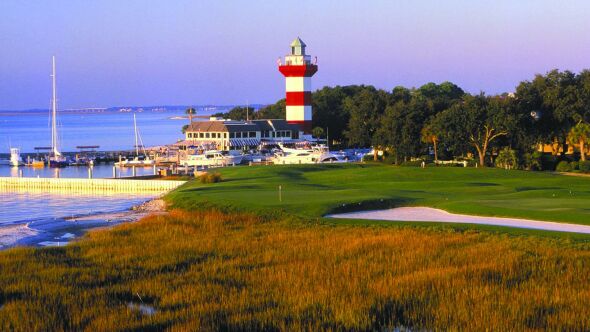 Hilton Head Island, South Carolina
Resort
1981: TPC Sawgrass (Players Stadium) - Ponte Vedra Beach, Fla.
If there's any architect who deserves to appear twice, it's Pete Dye, whose iconoclastic designs broke the mold of the mostly penal, flashy and formal modern era in golf design. Although it has been sanitized in many ways from the wild, wooly original, TPC Sawgrass' original course remains a pioneer for its introduction of the concept of stadium golf, complete with huge mounds built for no other purpose than to give spectators the best possible vantage points from which to watch the best golfers hit shots in competition. As the annual host of the PGA Tour's flagship tournament, it continues to influence modern architects as they consider how to outfit a course for championship play, while the iconic 17th has inspired dozens of latter-day island par 3s.
Ponte Vedra Beach, Florida
Resort
1990: Shadow Creek - Las Vegas, Nev.
If you want to be famous in Sin City, you can't cut corners; you need to gold-plate them. Economics isn't measured just in dollars and cents in Vegas, but prestige and notoriety, which are difficult to quantify, and very expensive to create out of whole cloth, or, as the case was, a flat patch of desert. Steve Wynn built Shadow Creek for an eye-watering $37 million in 1990. "But spending that much money on a resort course made no sense in terms of meeting day-to-day operating expenses," wrote Brad Klein about the pioneering spare-no-expense desert-oasis layout by Tom Fazio. "It only could be justified as rational if your criteria for return-on-investment included sheer ego as well as indulging the high rollers at your casino hotel." Of course, Shadow Creek's loss-leadership hasn't kept it from commanding one of golf's highest green fees (now $1,000). It can safely be considered the rich uncle of every other high-roller-oriented course built since.
1999: Bandon Dunes - Bandon, Ore.
There's a lot to be said for having confidence in your own taste. In Mike Keiser's case, that confidence lay in a love of rustic golf built on sandy soil in beautiful places. Never mind how far off the beaten path that place is (Bandon is more than two and a half hours from Eugene and more than four from Portland) - if you build irresistible golf, golfers will find it. In turn, Keiser has found five more big courses at Bandon and his sons have found a similar formula at Sand Valley Golf Resort in Wisconsin, with the family's Dream Golf portfolio set to grow further in the coming years. David McLay Kidd's original Bandon course sits at the beginning of it all.
2014: Sweetens Cove Golf Club - South Pittsburg, Tenn.
It may seem odd to consider a course that opened in the 2010s to be in any way "historic," but Sweetens' unique story, wildly fun design and its mythos, powered as much by traditional media coverage as by Instagram and YouTube, make it a uniquely contemporary success story. Its popularity has also helped launch King Collins Golf as one of America's hottest architecture firms, leading to a springboard 18-hole commission at Landmand in Nebraska with more courses on the horizon.
How many of these historic golf courses have you played? Which others do you consider important in the history of the game in America?