Traveling with golf clubs has become a hassle.
You have to worry about so many things, especially when you're depending on the airlines.
The first is cost. Outside of Southwest Airlines, unless you have status on a specific airline, checking a golf bag will cost you anywhere from $40-$60 roundtrip. If you also have checked luggage, it's more than that.
That doesn't include the cost of the travel case either. Bay Boy has a line, for example, starting at $79.99 for their entry model, the T-650, while the T-2000, at $209, comes with more protection and features. Club Glove bags can cost up to $369 for the Last Bag XL. (You can also rent a golf travel bag shipped right to you from RentLuggage.com).
Then comes the other stuff: Do my clubs and travel bag weigh less than 50 pounds? Can I sneak an extra golf outfit and pair of shoes inside without being forced to repack? (Don't laugh, it happened to Golf Advisor's Mike Bailey) Will my clubs get damaged? Will the bag get delayed, or heaven forbid, lost?
Twice, my clubs have disappeared for at least one day on overseas trips, ruining opening rounds at Trump International Golf Links Ireland (Doonbeg) and Gullane Golf Club in Scotland.
It's no fun showing up at a course you've dreamed of playing feeling naked with no sticks. No matter how good your 'sad eyes' routine, you're likely paying for rentals you don't like and buying other accessories in a pricey pro shop that may, or may not, be reimbursed by the airlines. I cover that touchy subject in this story.
In 2014, U.S. airlines collected $2.6 billion in baggage fees and mishandled 24 million bags, according to Ship Sticks, one of the many services that is attempting to make traveling with clubs easier. There are two routes you can go:
1. Shipping your clubs; or
2. Renting clubs from a company that allows you to pick your rentals from a wide selection of the newest models instead of wondering what you'll get stuck with at the course.
You'll likely pay more for these services than taking your clubs on the plane, but that cost comes with peace of mind and convenience of not having to lug them to the airport or stuff them in a packed rental car (unless you choose the company, Clubs to Hire, detailed below). For comparison sake, I priced out what it would cost if I had used any of the services on my most recent golf trip, traveling from my home in San Jose, Calif., to northern Michigan.
Ship Sticks
---
The rise of Ship Sticks, founded in 2011, has been meteoric. The name alone has been a powerful marketing tool, giving off the impression of a golf club shipping company first, even though it also ships luggage and other sports gear, too. Many golf resorts and courses now have such strong partnership relationships with Ship Sticks - more than 3,000 worldwide - that their staff members will repack your clubs in their travel bag; print out and attach the shipping label for you; and hand the bag to the delivery person when he/she arrives. You don't sweat the details. At Bandon Dunes in Oregon, the bag staff referred to the "Ship Sticks room" when fetching one of our bags upon arrival for my first visit last March.
Shipping can cost as little as $39-$59 one way depending on the distance to the destination and the time frame needed for arrival. Ship Sticks mainly uses FedEx and UPS to transport its packages.
Nick Coleman, the company CEO and founder, told me in a previous article that Ship Stick's tracking system promotes a higher on-time delivery rate than either service - roughly 98.8 percent for FedEx/UPS compared to 99.7 percent for Ship Sticks. The Florida-based company insures any lost bag for $1,000.
I put Ship Sticks to the test on my latest golf trip. I gave them little notice to get my clubs from San Jose to the Belvedere Golf Club, a hidden gem of a semiprivate club in northern Michigan. They accepted the challenge, sending me a shipping label by e-mail instantly. A FedEx truck picked up my clubs from my front stoop the following day. To my surprise, I got an e-mail that they had arrived at Belvedere in Charlevoix, Mich., in less than 18 hours (a trip that cost $166.98 for next day air, including $6.99 for $2,000 worth of insurance).
I did throw Ship Sticks a curve ball that proved to be too tricky on my way home. I played Forest Dunes on a Friday morning and wanted my clubs picked up after the round with a must-arrive time of 10 a.m. Monday for a potential media outing in California. Unfortunately, Ship Sticks couldn't guarantee when they would be picked up - maybe the driver would stop by the remote Forest Dunes property in Roscommon while I was playing - and the window was too tight on the other end as well (they were guaranteed to arrive by noon but not 10 a.m.). I ended up lugging my sticks to the airport to get them home. However, most of the time, if you plan ahead, you should have no problem getting your clubs from one destination to the next with Ship Sticks.
Price comparison: $64.99 one way for five business days ($79 for three) from San Jose to Belvedere.
Website: shipsticks.com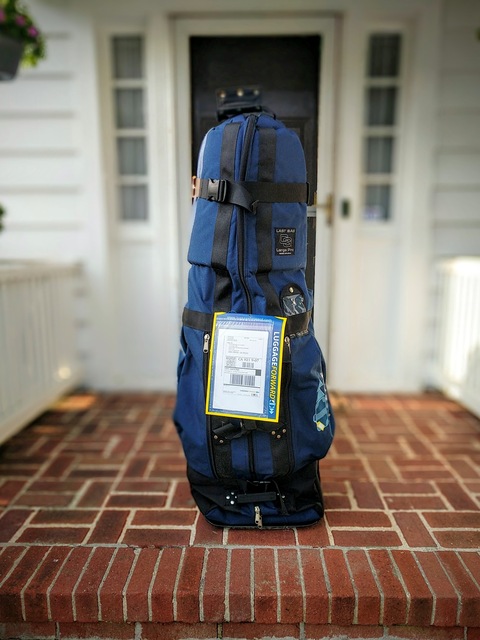 Luggage Forward luggage bag tag
---
Luggage Forward was the pioneer in shipping clubs overseas to Great Britain and Ireland, debuting in 2005. Since then, it has acquired eight different luggage and golf club shipping brands in an attempt to corner the market. If you find a lower rate than what Luggage Forward offers, it promises to match the price and share a $25 voucher for next time. The company guarantees an on-time arrival or your money back and up to $500 for your pain and suffering.
Company Co-Founder Zeke Adkins said his service will be on average $15-$20 more expensive than Ship Sticks, because of its "premium" service, but that it costs less than FedEx "because of our buying power".
"We do a number of things that are important (for customers)," he said. "We send them a custom luggage bag tag (to protect the shipping label). That is important to make sure the label stays on and the bag gets to its destination on time."
Also of note, Luggage Forward's pickup window is two hours, compared to nine for Ship Sticks, the issue I ran into at Forest Dunes. That's my one worry about shipping clubs from home - What if somebody other than the delivery person snatches them from your front porch? It could happen.
Adkins said the company has had 13 straight years of double-digit growth. By serving popular golf tour operators such as PerryGolf and Haversham & Baker, Luggage Forward's strength continues to be its international business.
Price Comparison: $94 one way for five business days.
Website: luggageforward.com/shipping-golf-clubs
FedEx
---
The two giants in the shipping business are big players in the golf industry - FedEx sponsors the FedEx Cup, the season-long points race on the PGA Tour, and UPS sponsors golfers Lee Westwood, Louis Oosthuizen and Jeev Milkha Singh. Neither wanted to share any specific information about their businesses shipping golf clubs, such as any increases the past five years.
Using either company makes sense if you don't own a travel bag or if yours is too big (a hard case?) to take along. For example, UPS amd FedEx stores have proper-sized boxes and packing materials to send your clubs safely. If you let UPS pack your bag for you at one of its 4,700 locations across the country, then you get significantly more insurance benefits than if you pack it yourself. FedEx brags on its website that FedEx Ground shipping is faster to more locations than UPS Ground.
Price comparison: Costs to ship UPS Ground over five days would range from $120-$170 according to a UPS spokeswoman. FedEx Ground over four days would cost $85.37, according to an online rate quote.
Websites: theupsstore.com/pack-ship/golf-clubs and smallbusiness.fedex.com/np-summer-travel.html
Golf Bag & Luggage Shipping
GB&LS delivers the convenience of door to door pick-up anywhere in the United States - with the exception of weekends and holidays (Saturdays are available in certain markets for a surcharge). The basic prices are based on the distance between your pickup and delivery locations as follows: 1 to 600 miles, 600 to 1,400 miles and 1,401+ miles. Its website has a handy calculator to estimate prices. The lowest cost by three-day air is $44 for a golf bag and $64 for luggage. One-way tickets overseas start at $129.
Once you book, you will be sent a Shipping Plastic Container, a light-weight protective covering called as 'SPC', to further ensure protection of your clubs (a soft- or hard-cover case is still encouraged). One caveat: The weight allowance of 33 pounds per golf bag seems awfully light to me (Ship Sticks allows 42 pounds by comparison). Best to clean out your bag and pack the balls elsewhere.
Price comparison: $113 one way for three days by air (the longest time frame/most affordable rate available).
Website: golfbagshipping.com
The choice to rent clubs, as opposed to shipping your own, is more complicated. There's no guarantee you'll love any rental set you get ... after all, you will be playing them for the first time. All of these services listed below tout that their clubs are the latest and greatest and cost less than renting from the course/resort you're visiting. Some resorts have countered this trend by including rental clubs (and even use of rental shoes) within certain golf packages they offer. New properties are going above and beyond as well. Royal Blue Golf Club at Baha Mar in the Bahamas offers pricey PXG sets included in their all-inclusive green fee. So it's best to investigate the rental club situations where you'll be playing and make the decision if trying one of these operations is worth the effort.
But if you plan on playing at multiple properties, that means you have to rent different sets everywhere you go, making it pretty tough to get your swing into the groove during your trip.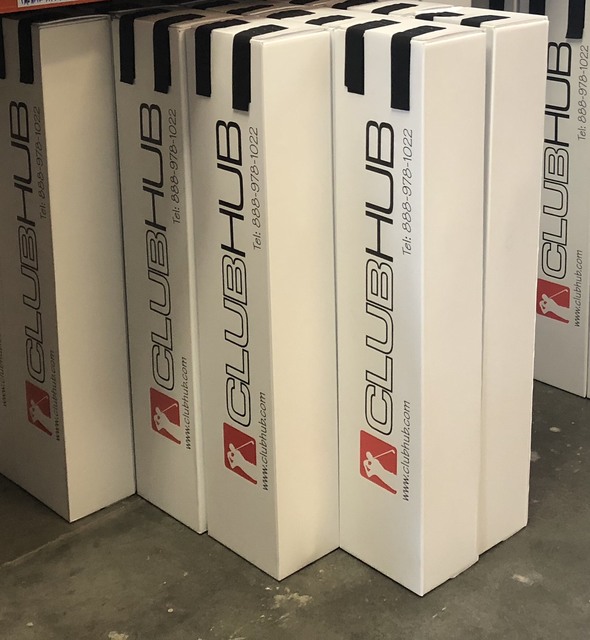 Club Hub
---
Club Hub will deliver a rental set of the latest TaylorMade clubs to any hotel, business or course in the continental United States. All it costs is $69 the first day with $20 each additional day (shipping included). The biggest selling point here is if you have these rentals shipped to a resort or golf course where you're playing for the duration of your trip, you never have to put them in the truck of a car. To send them back, simply repack them in the original shipping container (don't toss it!) with the included return packing label stuck on top of the old one. UPS will pick them up (or you can drop them off at any UPS store). Price Comparison: Since I was in Michigan for two weeks, this option would have cost $300-plus. It's better for shorter trips. Website: clubhub.com
The majority of this European-based company's 26 destinations are overseas, but it does offer the opportunity to rent clubs in Scottsdale, Az., as well. A bag of the latest clubs by TaylorMade, Mizuno, Callaway or Wilson clubs cost as little as 35 Euros per week to rent. The tricky part is you must pick them up and drop them off with a representative once you get to your destination. Most places of exchange are at or near the airport. For example, flying into Edinburgh, Scotland, you simply meet at the Car Rental Center. Scottsdale has three different potential meeting points.
Price Comparison: Not an option because it doesn't service northern Michigan.
Website: clubstohire.com
Renting clubs is a competitive space with lots of options everywhere. Clublender works out west, using UPS to deliver rentals of TaylorMade, Callaway, PXG and Titleist in California, Arizona, Utah and Nevada. The Golf Club Rental Express has rental centers in North Myrtle Beach, S.C., serving the East Coast, and Milwaukee, Wis., serving the Midwest.
Many top golf destinations have their own club rental services. Out in Hawaii are Jimmys Kona Golf Rentals on the Big Island and Jimmys Maui Golf Rentals on Maui. Boss Frog's has club rentals on multiple Hawaiian islands, but the picture on the website doesn't look too promising.
VIP Golf Services in Las Vegas offers anything from club rentals - TaylorMade, Callaway, Adams and PXG sets, ranging from $30-$100 a day - to shoe, blue tooth speakers, range finders and cart rentals, plus the ability to make all your tee times. SwayGolf in Las Vegas will drop off your rentals at the concierge desk at the casino hotel where you are staying the day before you play. Sterling Golf Services books tee times and offers rental clubs for golf courses in Las Vegas, Phoenix, Scottsdale and Palm Springs. Prosets Premium Golf Club Rentals operates in Orlando and Phoenix/Scottsdale, offering Callaway, TaylorMade, Titleist and PING clubs as low as $14 a day if you pickup at a local golf shop. For those nostalgic for the days when Nike Golf was in the club business, you can rent Nike sticks from Golf Clubs Away in Las Vegas and Orlando.
Orlando Golf Club Rentals to Go only delivers Callaway and Mizuno clubs to courses or hotels in central Florida. Golfers in Myrtle Beach can also look into Low Country Golf Club Rental ($30 for one day-rentals of Cleveland, Mizuno, Adams, Nike, Ping, Callaway, Titleist, Cobra or TaylorMade clubs) or Myrtle Beach Golf Club Rentals ($25 for one day of Adams, Nike, Ping, Callaway or TaylorMade sets).
Price Comparison: The only company listed that serves northern Michigan, Golf Club Rental Express quoted a $220 two-week rate on its website.
Websites: Click on the names above to visit their websites.
How do you travel with your clubs? Has an airline luggage snafu ruined a golf trip? Have you had good or bad experiences using any of these services? Let us know in the comments below.