Some destinations, more than others, are all about the quality of golf to the point where discerning visitors kind of have to suffer through the food. In the past, Ireland was one of those destinations.
Not anymore.
In recent years, the Emerald Isle has shed its mixed culinary reputation to the point where the quality of its best food is almost on a level with that of its best golf.
You've undoubtedly heard a lot about where you should play in Ireland. But just as surely as a round of drinks needs to be blessed with a toast of slainte, a round of golf needs to be followed by a great meal.
And with St. Patrick's Day coming, we thought this was as good a time as any to tell you about our favorite items of Irish food and drink (and places to find such) to look for on a trip:
1. Guinness. Lots and lots of Guinness. Everywhere.
A lot of food/drink-recommendation articles like to point out "less-commercial" brands of beloved comestibles - e.g. local coffee shops as an alternative to ubiquitous Starbucks. But in Ireland, why bother trying to improve on a beer that has been a national icon for decades? Available everywhere but best enjoyed out of a tap in a centuries-old, dimly-lit pub, Guinness is as much a part of Ireland as green grass and the seacoast. If you've traveled to Ireland but haven't drank a Guinness, have you actually been there?
2. The mussels at Johnnie Fox's Pub (among others).
Ireland is one of the great seafood meccas of the world, and at the famous Johnnie Fox's pub - located about a half hour outside of Dublin and known as the "highest pub in the world" for its hilltop perch - helps cement that reputation. The local bivalves are served in a traditional cider, garlic and onion cream sauce. FYI, the nine-hole Glencullen Golf Club is literally across the street from the pub, in case you need to "take it outside" to settle a dispute.
Notable nearby courses: Dun Laoghaire Golf Club, Druids Glen Golf Resort, Grange Golf Club, Royal Dublin Golf Club
3. Pudding...for breakfast?!
Any diner or greasy spoon joint in the U.S. is rightly judged on the strength of its coffee. That's true to a certain extent in Ireland, but there's a lot more focus placed on the pork-and-fat-rich pudding, both black (with blood) and white (without). It's a key component of a true Irish breakfast, guaranteed to lower your golf scores by a stroke or two...probably because the added heft will give you more stability in the wind.
4. Irish soda bread and Kerrygold butter.
Kerrygold butter and cheese is becoming popular in the U.S., but it was born in Ireland. And soda bread - think baking soda, not carbonated beverages - is as much a staple of the Irish diet as anything else. Together, the two are a must-have component of any breakfast, or a mid-afternoon snack.
5. Fish and chips.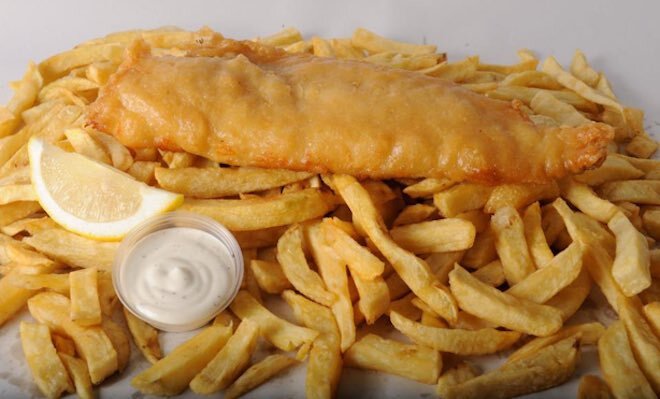 No, we haven't confused Ireland for the England here. Whereas Great Britain is known as the home of this crunchy, greasy staple, Ireland's close ties to the sea make it as good a place to enjoy some battered cod and fried potatoes. There aren't many differences between Irish and British or Scottish fish and chips - just be happy that there are twice as many places to get the real thing.
6. Colcannon.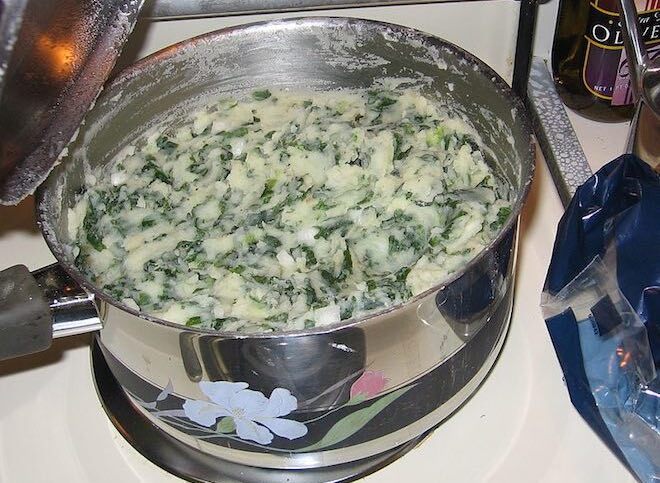 Stewed cabbage is the traditional second-fiddle to corned beef on St. Patrick's Day, and that's okay, but we prefer the more involved but significantly more delicious colcannon. It combines cabbage with butter and milk or cream, as well as onions and chives, usually.
7. Boxty
Many cultures have some version on the potato pancake, and the Irish have one of the best. Boxty gets a little extra richness from the use of buttermilk, and it can be served as a sort of blanket for the main course - usually beef - with gravy over the top.
8. Tayto sandwiches
In much the same way as Americans tend to refer to all tissues as "Kleenex," most Irish tend to refer to any potato chips or crisps as "Tayto," which is their runaway-popular brand, known for the friendly-looking, suit-and-hat-wearing potato on the front of the bag. Taking the obsession a step further, a popular snack in Irelant is a Tayto sandwich: white bread, Irish (e.g. Kerrygold) butter and some Tayto Cheese & Onion or Salt & Vinegar chips. Irish airline Aer Lingus served Tayto sandwiches on board until recently. There's even a Tayto theme park in County Meath.
9. Coddle
The word "coddle" tends to have negative connotations, particularly when it comes to child-rearing. But in Ireland, it's a stew that gets mouths watering. Sausage, bacon, potatoes and onions, and a little hard cider or beer to flavor the stock? Sign us up!
10. The many delights of Ireland's best-eating city: Galway.
Dublin is Ireland's capital and largest city, but Galway, located on the country's west coast, is home to the culinary heart of the island. Michelin-starred eatery Aniar is the place to go for a special-occasion dinner (if you can get a reservation), but there are other excellent eating opportunities around the city - especially during the Galway Food Festival every April. If you've got a nearby afternoon round of golf planned on a weekend, be sure to visit the Galway Market to mix with the locals and gawk at the produce. Cap it off with a celebratory hunk of cheese from the famous Sheridans Cheesemongers nearby.
Notable nearby courses: Galway Golf Club, Galway Bay Golf Resort, Lahinch Golf Club
8. Pretty much anything at Harry's Shack.
Technically, Harry's Shack is not in the Republic of Ireland, but rather Northern Ireland. But if your travels take you to the town of Portstewart, this small, quirky spot serves some of the finest dining in either of the British Isles. Harry's Shack's chef is Derek Creagh, an alumnus of England's legendary The Fat Duck, regarded as one of the best restaurants in the world. A morning round at Portstewart, lunch at Harry's Shack, then more golf? Sign us up!
Notable nearby courses: Royal Portrush Golf Club (Championship and Dunluce Courses), Castlerock Golf Club
Are you a lover of food and golf in Ireland? Got any culinary recommendations for your fellow Golf Vacation Insider readers? Please share them with us in the comments below!