Tiger Woods seems to play his best golf when he's tackling the iconic venues in the game, the Yankee Stadiums and Fenway Parks of golf, if you will.
In his prime, he hit shots back then that most of us only dream of. Woods built the foundation of his amazing career — 81 career victories and 15 majors — on a slew of courses where he dominated. The win at the 2019 Masters answered the question: Will he ever win another major? Now that the monkey is off his back, it's safe to assume there's more wins to come. He's already won majors at the next two majors venues - the PGA Championship at Bethpage Black in May and the U.S. Open at Pebble Beach in June - and nobody knows what to expect at The Open at Royal Portrush, the first major on the Dunluce course since 1951.
He's the first player in PGA Tour history to win six tournaments at least five times.
Here are the 10 courses synonymous with his greatness.
Poipu Bay had a great run hosting the PGA Grand Slam of Golf from 1994–2006, and got plenty of notoriety thanks to Woods, who won the exhibition between the four major champions at the club seven times. Woods lost to Ernie Els in his first time qualifying in 1997. It was his only setback in the event before ripping off a five-year winning streak from 1998-2002. Woods quit playing the PGA Grand Slam when it left Kauai in 2006.

The King himself, Arnold Palmer, held court over some of Tiger's best golf. Woods has always contended that Bay Hill fits his eye. He has captured the Arnold Palmer Invitational eight times, including four in a row from 2000-2003. Although raised in California, Woods has ruled on the Bermuda grasses of the Sunshine State, his adopted home.
First Ford. Then Cadillac. It didn't matter which car company sponsored a tournament at Doral, Woods was likely to win, or at least be in contention. Woods won the final two Ford Doral Opens in 2005 and 2006 and later captured two Cadillac Championships when the tournament became a more prestigious World Golf Championship event. Woods made another run at taming the Blue Monster in 2014 -- the first after a Gil Hanse redesign -- until a final-round collapse.
Nobody has won more World Golf Championships than Woods, who was nearly invincible in Akron. He won the WGC-Bridgestone Invitational (formerly the WGC-NEC) eight times, including two three-year winning streaks (1999-2001 and 2005-07). His 8 iron to 2 feet in the dark clinched the tournament in 2000.
One of Woods' greatest moments came on the famed and feared Pete Dye design long before he was a household name. At the 1994 U.S. Amateur Championship, Woods rallied from six holes down to beat Trip Kuehne, 2-up, in the match-play finale. Woods never won as many PLAYERS Championships at TPC Sawgrass as expected, although two titles aren't bad.
The 2001 PLAYERS victory, punctuated by his "better than most" birdie putt on the island-green 17th hole, was memorable. The title in 2013, en route to his last PGA Tour Player of the Year award, signaled a surge of spectacular golf.
Video: What was Tiger's most memorable shot?
---
Tiger will forever be linked to the Golden Bear. The club that Jack Nicklaus built outside of Dublin, Ohio is no exception. Woods won the Memorial Tournament five times (1999-2001, 2009, 2012) with Nicklaus in attendance.
After winning in 2012, Nicklaus told Woods that the chip-in for birdie on the par-3 16th hole during the final round was "the best (shot) I've seen here." It was Woods's 73rd PGA Tour victory, tying him with Nicklaus at the time.
Winning two Open Championships in five tries at golf's most historic treasure ranks among Woods' crowning achievements. The 19-under-par he shot in 2000 was the lowest score in relation to par in tournament history at the time. He followed that up with another victory in 2005. Unfortunately, a missed cut in the 2015 Open shows just how far his game had fallen at the time.
Woods used his local knowledge -- he's won seven Farmers Insurance Opens -- to secure an epic 2008 U.S. Open on one leg. The Monday playoff against Rocco Mediate was all guts and determination.

Woods tied for second in his Pebble Beach National Pro-Am debut in 1997. A bit of foreshadowing, huh? His 15-shot victory at the 2000 U.S. Open will always be the gold standard for major championship golf. He likely would have won more than just the 2000 AT&T Pebble Beach National Pro-Am if he hadn't pulled the tournament off of his schedule in 2002. He made a brief return in 2012, but the magic at Pebble Beach seemed gone forever as he quit coming to the Clambake. Can it be rekindled for the U.S. Open?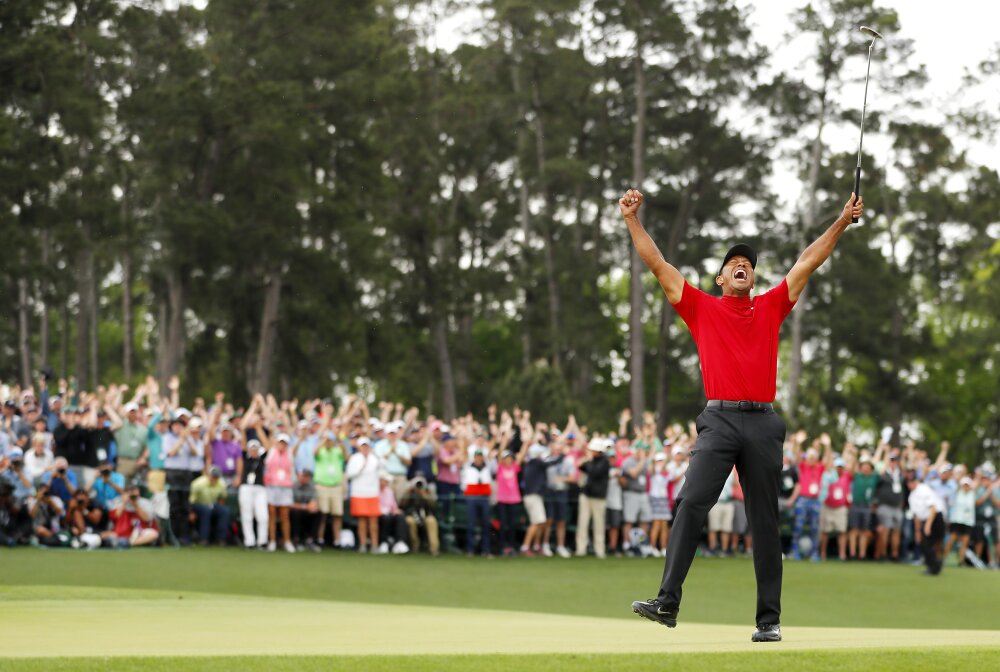 Before the "Tiger proofing" of Augusta National by Tom Fazio, The Masters was a safe haven for Woods. He won four green jackets from 1997 (his epic romp) to 2005, including back-to-back victories in 2001-02. Then he went cold here, due to a mix of poor performance and injuries. He couldn't devour the par 5s like he used to. Many believe he'd won his last green jacket.
But in 2019, in stunning fashion, he chased down Francesco Molinari and held off a star-studded leaderboard to regain the green jacket. The win will be one of Woods' most iconic, including his 1997 win, 2006 Open Championship at Royal Liverpool following the death of his father and 2008 U.S. Open when he won the event on a broken leg.
Woods has experienced both agony and ecstasy at Augusta: His Nike "swoosh" chip-in at no. 16 in 2005 and "Drop-gate," the unlucky approach that hit the pin and bounced back into the water on no. 15, leading to an incorrect drop and 2-stroke penalty in 2013. But for now, Woods is back on top at Augusta National. Given his recent performance in majors, it's hard to believe this was his last shot.