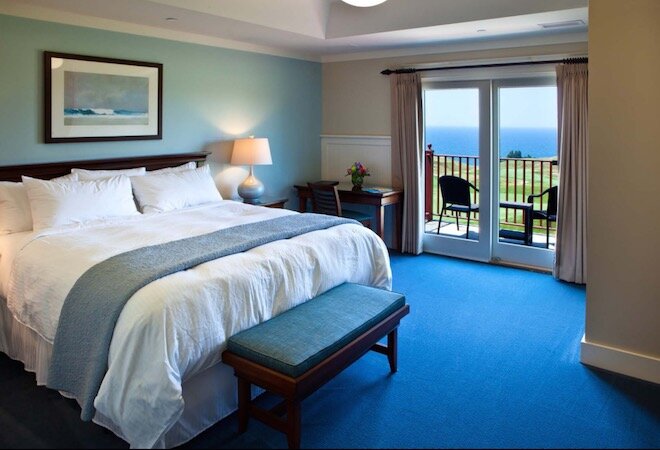 It's like waking up, walking to your kitchen, and finding breakfast on the table waiting for you.
The opportunity to walk down a flight of stairs and find oneself on the first tee of a nice golf course is a rare treat.
See, most resorts have their accommodations near the course. But there's just something a little bit sweeter about the opportunity to stay "on" the course. Here are six places where you can do just that:
Arcadia Bluffs – Arcadia, Michigan
Overlooking Lake Michigan, the clubhouse at Arcadia Bluffs, designed in a Nantucket style, has 15 guestrooms—all with singular King-sized bed—for visitors looking to stay and play on property. Lake-facing rooms range from $180 to $300 per night while "Standard" or sunrise-facing rooms go for $150 to $270 per night, depending on the time of year (June through September being the high season). The spectacular links-style course also offers broad and commanding views of the lake. www.ArcadiaBluffs.com.
Dancing Rabbit Golf Club – Philadelphia, Mississippi
Most visitors to the Tom Fazio-designed Dancing Rabbit Golf Club end up staying in one of a few nearby hotels, but visitors do have the option of staying in one of eight guest rooms on the second floor of the clubhouse, each with a King bed and whirlpool bath, on a space-available basis. Staying at Dancing Rabbit gives guests the use of their own lighted golf cart as well. www.DancingRabbitGolf.com.
Mid Pines Resort – Southern Pines, North Carolina
Mid Pines is a classic, down to its recently restored Donald Ross golf course that is known for its charm and loveliness. The Mid Pines Inn, upstairs from the pro shop, stands watch over the first tee and putting green, providing visitors near-instantaneous access to the golf facilities. www.PineNeedles-MidPines.com.
Rum Pointe Seaside Golf Links – Berlin, Maryland
Pete and son P.B. Dye teamed up to craft Rum Pointe, which enjoys a windswept setting. A number of holes overlook the bay separating the course from Ocean City. It is essentially a public course, with one exception: the Apartment, which houses a King bed, five Double beds and two Twin beds in total. A week's rental runs $1,425; it is ideal for a smaller group of players or families and adds an interesting touch to the amenities at Rum Pointe. www.RumPointe.com.
Streamsong Resort – Bowling Green, Florida
The most popular new player in American golf resorts, Streamsong blends two rugged, classic-looking golf courses, designed by Tom Doak and Bill Coore and Ben Crenshaw, respectively, with a very contemporary look to the buildings. The 216-room Main Lodge is now open, but there are still 12 guestrooms in the clubhouse for golfers who prefer that option. www.StreamsongResort.com.
Washington Duke Inn & Golf Club – Durham, North Carolina
Even reluctant University of North Carolina fans would concede that the hotel presiding over their rival school's golf course and above the pro shop is excellent. With 271 rooms of ranging sizes and levels of luxury, the Inn reflects the pride and distinction of the university. The golf course, a Robert Trent Jones, Sr. design later renovated by son Rees, is known as one of the best university courses in the country. www.WashingtonDukeInn.com.
Have you ever stayed "on" the golf course at any of the above or other places? Please share your thoughts or read what others are saying below.