(Updated February 2023.)
At some point or another in a traveling golfer's life, almost all roads lead to Florida. In frigid winters, even Arizona and Southern California can have their chilly spells, but the Sunshine State, especially South Florida, can be relied upon to provide pleasant weather when snowbound enthusiasts need relief most.
Of course, as I have learned from living here since 2014, there is not one single Florida. It's really about five or six states in one, each region having a different feel and local flavor, especially for golfers.
Here's the rundown of the best Florida golf resorts, broken out by region.
One could argue that even after you've crossed the Florida border, you're still in the South for at least a few dozen miles. Some seasonal change can be expected here, but savvy travelers know that that means there can be big-time value in winter golf here, especially during the plentiful stretches of mild weather.
TPC Sawgrass/Sawgrass Marriott Golf Resort & Spa - Ponte Vedra Beach
The annual host of The Players Championship remains a bucket-list course, but don't sleep on the Dye's Valley layout. At the Marriott resort nearby, a recent $25 million renovation project prioritized refreshed guest accommodations, spa updates and a new SurfStream wave simulator. | Visit Resort Page
Great for: PGA Tour fanatics, couples
Omni Amelia Island Plantation Resort
The Pete Dye-designed Oak Marsh and Tom Fazio-designed Long Point layouts here are solid and scenic. The latter is a members-only joint except for guests of the on-site Omni. Beau Welling recently turned a few lakeside acres into a rollicking 10-hole short course called Little Sandy, bringing a popular new golf amenity to the fore. | Visit Resort Page
Great for: Beachcombers, private club access
World Golf Village - St. Augustine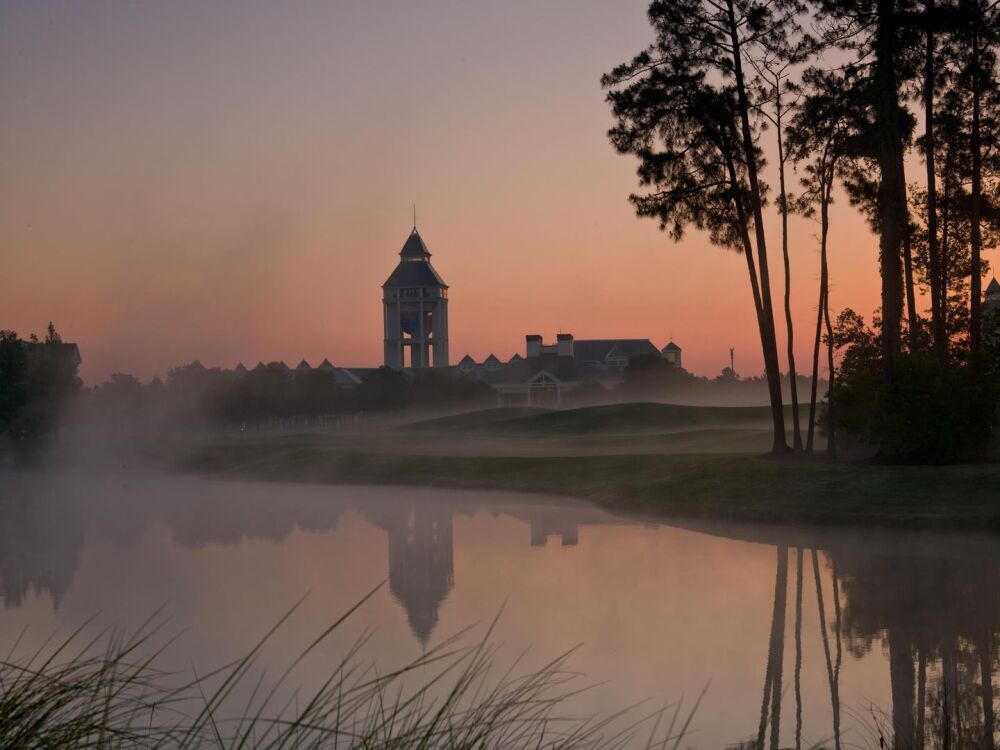 The King & Bear course has always been the headliner, but Bobby Weed's renovation of the Slammer & Squire has made it just as good. Even though the World Golf Hall of Fame is moving to Pinehurst, the golf is well worth exploring. A large dining and shopping complex makes it easy to spend the bulk of your time on property if desired. | Visit Resort Page
Great for: Buddies trips
A grandiose Bobby Ginn creation, Hammock Beach is entering its second twenty years with aplomb, fresh off a sensitive renovation of its original Jack Nicklaus-designed Ocean Course, one of relatively few accessible Florida layouts with bona fide beachfront holes. The Tom Watson-authored Conservatory Course is a modern gem, too. Accommodations run the gamut from hotel-style suites to multi-bedroom villas. | Visit Resort Page
Great for: Ocean-view accommodations, group trips.
Between the resort's Five-Diamond status and its two historic courses, Ponte Vedra Inn can be relied upon to help luxury travelers get a sense of Old Florida. Tradition is its calling-card but the resort is also expanding, with its new Ocean House having debuted in 2020. | Visit Resort Page
Great for: Couples, traditional golf fans
Orlando is the dominant factor in the middle of the state, drawing millions of tourists annually not just to its theme parks but to its verdant fairways. Keeping in mind the range of tastes coming and going from this busy in-state megalopolis, there are several vastly different resorts, and your enjoyment of them will have to do with how well they match what you're looking for.
Omni Orlando Resort at ChampionsGate
This master-planned community has 36 holes designed by Greg Norman bestride a spiffy Omni resort. Recent additions to the resort include the introduction of the Sunset Lodge, which includes units that can be combined to form large shared accommodations that include as many as four bedrooms;and more than 130 new rooms coming online in 2023. Cheery service pervades the property, from the lodgings to the golf courses to the lighted, nine-hole par-3 loop. | Visit Resort Page
Great for: Groups, Disney access
Arnold Palmer's Bay Hill Club & Lodge - Orlando
Arnie: How Palmer came to own Bay Hill
Few resorts embrace and embody a single figure the way Bay Hill does Arnold Palmer. Even though The King passed away in 2016, his spirit is alive at his boutique retreat in the Orlando neighborhood of Dr. Phillips. With just 70 rooms, it's a calm escape from the crowds and bustle. Plus there's a fun golf course full of memorable holes to play, and one of the best practice facilities anywhere out your back door. | Visit Resort Page
Great for: Arnold Palmer fans, PGA Tour junkies
Mission Inn Resort & Club - Howey-in-the-Hills
With its Spanish-inspired building architecture and courses named El Campeon and Las Colinas, Mission Inn is one of the last bastions of Old Florida. Located at arm's length from Orlando proper (about 45 minutes from Orlando International Airport), it's convenient to get to while also feeling quiet and isolated. The hilly topography of the courses, especially the century-old El Campeon, makes for some interesting shot calculations that Florida-bound golfers might not expect. New owners (as of 2023) seek to upgrade the golf courses and accommodations soon. | Visit Resort Page
Great for: Buddies trips, mid-budget golfers
Streamsong Resort - Bowling Green
Golf Advisor Round Trip Feature: Streamsong Resort
Located about 75 minutes south of Orlando, Streamsong sits in a unique wilderness of native scrub and lots of sand that owner Mosaic, a mining corporation, turned into a fantastic 54-hole complex with courses by the biggest contemporary architects: Tom Doak, Coore & Crenshaw and Gil Hanse. This is anti-Florida golf in the best way: expansive fairways and greens, firm Bermuda turf and nary a condo for miles around. Instead, the building architecture is strikingly modern, invoking a promising future. While there are other activities on offer, this is a place for golf first and foremost. Several KemperSports investors purchased the resort in 2023, and a new Coore & Crenshaw short course is coming soon. | Visit Resort Page
Great for: Hardcore golf groups, walking
Reunion Resort - Kissimmee
This large complex, originally assembled by real estate boom cautionary-tale figure Bobby Ginn, is a poster-child for the pre-Recession attitude toward golf development: big houses and big-name designers (in this case: Palmer, Nicklaus and Watson). New economic realities have turned Reunion from a speculator's haven to a sneaky-good value for buddies trips, as lots of the mega-mansions built on the property make great group rentals. | Visit Resort Page
Great for: Buddies trips, families, Disney access
Four Seasons Resort, Orlando
The Four Seasons brand is one of the strongest in high-end hospitality, and its Orlando outpost is no exception. The development of the resort coincided with the conversion of Disney's former Osprey Ridge layout into the Tom Fazio-desiged Tranquilo Golf Club. Tranquilo was public for a time, but now it's open only to members and Four Seasons guests, making it an oasis of quiet amid the Orlando tourist crush. | Visit Resort Page
Great for: Private club feel, Disney access
(Note: Tapped-in readers may note the absence of Grand Cypress from this list. That's because the 45-hole resort is in the midst of some transformative changes, including the temporary reduction of its golf complement. If all goes according to plan, Grand Cypress will be back on this list soon as Evermore Resort.)
As you work your way down Florida's Atlantic coast, palm trees become more plentiful and the chances of perfect winter weather rise steadily. With big airports like Fort Lauderdale (FLL) and Miami (MIA), fly-in trips are easy to assemble as well.
PGA National Resort - Palm Beach Gardens
South Florida's biggest golf resort has reinvented itself in the last five years, spending more than $100 million to overhaul practically every square inch of its property. The PGA Tour-hosting Champion Course remains a brute, but it was architect Andy Staples transformation of the Squire course into The Match that has really elevated the golf experience here. The tamer Fazio and Palmer layouts have been spiffed up, too. | Visit Resort Page
Great for: Golf-intensive trips, match-play geeks, PGA Tour fans
The Biltmore Hotel - Coral Gables
One of Florida's grande dame hotels, The Biltmore's old-world charm is always in style, as is its best-in-class Sunday Brunch. The Donald Ross-designed course is looking better than ever, too, thanks to a 2018 restoration by Ross expert Brian Silva that continues to mature. Sure, it's the only course on the property, but it's well worth playing multiple times. | Visit Resort Page
Great for: Foodie golfers, old souls
JW Marriott Miami Turnberry Resort & Spa - Aventura
Feel SoFla cool at this upscale retreat with two 18-hole courses. Recent updates to the golf, new conference space and a new private waterpark show the resort is serious about fun. | Visit Resort Page
Great for: Business meetings, families
PGA Village - Port St. Lucie
I'm a bit of a homer for the three courses here, as they're a half hour from my house. But they're objectively fun to play and in consistently immaculate shape, with a world-class practice facility as well. Available accommodations come in the form of solid chain hotels (by Marriott, Hilton and Sheraton) as well as the Perfect Drive Villas, which roll as deep as three bedrooms and line the entry drive to the golf complex. | Visit Resort Page
Great for: Playing & practicing, golf-intensive group trips
The Panhandle has its own unique identity: Deep-South accents and hospitality with a side of world-class beaches help underpin the slower-paced, relaxation-oriented feel of the area. The golf is pretty good, too.
Sandestin Golf & Beach Resort - Destin
With south-facing sugar-sand beaches, Sandestin has a lot going for it in addition to four golf courses, including the private-but-accessible-to-resort-guests Burnt Pine Golf Club. | Visit Resort Page
Great for: Beachcombers, golf junkies, families
From Tampa down through Fort Myers and Naples, the warm Gulf of Mexico moderates temperatures in this part of the state throughout the year, making it a great winter destination with a more relaxed feel than the Atlantic side. Long a top choice of Midwesterners thanks to Interstate 75, the "secret" of this region is officially out.
Innisbrook Resort - Palm Harbor
Innisbrook has a lot more to offer than its PGA Tour-hosting Copperhead Course (though that alone is a pretty good draw). The resort's accommodations are in the process of being renovated, now that a course-by-course refreshment plan finished up about a year ago. The Island Course generally gets second billing but I rate the more open South Course the #2 option on property. At 20 miles from the Tampa airport (TPA), it's convenient for fly-ins as well as drive-ins. The North Course is set to be converted into a fun par-3 routing soon. | Visit Resort Page
Great for: quieter group trips, PGA Tour fans
Saddlebrook Resort - Wesley Chapel
Spotlight on Tampa's Saddlebrook Resort
About 45 minutes due north of Tampa, Saddlebrook has two courses and an interesting origin story. Former publishing executive Thomas Dempsey originally developed the resort on behalf of his company in 1979, and then bought it outright in 1988. The recent story has been one of revitalization, with the resort looking to update both its golf course and its practice facility in 2023 and 2024. | Visit Resort Page
Great for: Tennis too, lounging by the pool
Tiburon Golf Club/Ritz-Carlton Golf Resort, Naples
Hosting the LPGA Tour's year-end CME Championship and the PGA Tour Champions' Chubb Classic has raised the profile of this complex, sporting two Greg Norman designs with broad fairways and a mix of low-profile sandy waste areas and stacked-sod bunkers. Both the Black and Gold courses are accessible only to members and guests of the Ritz-Carlton resort on site. | Visit Resort Page
Great for: Upscale peace-and-quiet, corporate retreats
Gasparilla Inn & Club - Boca Grande
It's attracted the likes of Thomas Edison, Katherine Hepburn and the Bush family over the years, but Gasparilla Inn, way out on an island in the Gulf of Mexico between Ft. Myers and Sarasota, remains relatively undiscovered. The golf course, modernized by Pete Dye around 2005, is situated mostly on its own auxiliary island. Traditional all the way, the main dining room requires that men wear a jacket for dinner between December 20 and April 12. | Visit Resort Page
Great for: Couples, quiet relaxation, traditionalists
Coming soon: Cabot Citrus Farms
The former World Woods Golf Club an hour north of Tampa was purchased by Cabot, whose resort in Cape Breton Island is one of Canada's greatest gifts to traveling golfers. The two big courses are being overhauled in 2023, and a radical 21-hole short-course concept is set to debut alongside them in late 2023.
PALM COAST, FL | Enjoy 2 nights' accommodations and 2 rounds of golf at your choice of select hotels and golf courses in the St. Augustine area.
Browse golf courses, ratings and reviews in Florida's top destinations