Value is a lot easier to find off the beaten path than in the heart of a large metro area. But it's these coveted facilities, from munis to public and semi-privates, that provide an oasis of nature in densely developed population centers. These courses are also more likely to introduce new golfers to the game and keep budget-minded golfers playing more.
We sought to determine which course in each city is earning the highest value marks, so we examined your ratings and reviews - over 500,000 - from 2015 thru April, 2019. We wanted to include short and nine-hole courses, but also understand that pitch 'n putts and par-3 courses are different experiences with different expectations. For this list, we are looking for courses that are roughly 2,200 yards and longer or a par 31 (double that for 18-hole courses). Essentially, we are looking for urban courses that allow a golfer to hit every club in the bag.
We also didn't want to designate a set dollar amount (like "under $50") to determine eligible courses because we know that green fee expectations vary wildly from market-to-market. In some markets, resort courses are earning the highest value marks thanks to local deals or dynamic pricing.
To determine the 50 largest markets, we used 2018-19 Nielson market size data and to find the courses we used a 30-mile radius from the urban core (with several exceptions for sprawl-ier metros like Dallas, Houston and Los Angeles).
We've added an editor's commentary to many of these markets or provide a link to recent articles or destination guides spotlighting the courses in this area.
Don't see your favorite value course in your city? Consider it a gem still hidden.
Best values in the 50 largest U.S. cities
(Course's value score out of 5 from 2015-April 2019 in parentheses)
1. Red Course at Bethpage State Park (4.81)
2. Peninsula Golf Club (4.69)
3. Black Course at Bethpage State Park Black (4.56)
Beyond legendary Bethpage, the NYC Metro is also home to the country's oldest muni, Van Cortlandt Park Golf Course. In New Jersey, 9-hole Skyway has a neat, riverfront skyline and dunesy look. Westchester County has a six-course public system as well (Sprain Lake made our 2018 Most Improved list)
1. Rustic Canyon (4.38)
2. Alhambra (4.34)
3. Simi HIlls (4.3)
The L.A. muni system has a dozen courses with the top pick being Griffith Park's Wilson and Harding courses. Ratings at the L.A. munis have a low ceiling due to extremely heavy play. There are executive courses throughout the metro as well. Van Nuys has recently received solid reviews.
1. Deer Creek (4.59)
2. Balmoral Woods (4.58)
3. Sanctuary Golf Club (4.53)
Several other daily-fees on the shores of Lake Michigan include 9-hole, historic Sydney Marovitz, as well as 36 holes on the south side at Harborside International. The Jackson Park, another municipal course that was part of a Frederick Law Olmsted master plan, has big future plans that includes a new 18 holes by Tiger Woods.
1. Worcester Golf Club (4.76)
2. Jeffersonville Golf Club (4.69)
3. The Bucks Club (4.46)
Just outside our 30-mile radius, Inniscrone is one of Gil Hanse's earliest designs and can be played for about $50, while the big question in Philly is will Cobb's Creek regain its rightful status among metro public courses once its planned renovation is completed?
1. Prairie Lakes Golf Course (4.48)
2. Heritage Ranch Golf Club (4.47)
3. Meadowbrook Park (4.42)
DFW is known for its steller munis, but privately-held public courses hold their own, too. As for the metroplex munis, Tierra Verde and Stevens Park are well-known picks, while Texas Rangers Golf Club just debuted in Arlington. Meanwhile, the two courses at Apache Links fell just outside our 30-mile radius for DFW. (Pine Dunes, a legendary value getaway in Texas, is a bit farther.)
1. Little Bennett (4.41)
2. Herndon Centennial (4.17)
3. Brambleton Regional Park Golf Course (4.16)
It can be tough finding great bargains in the Beltway. The District has two public courses, East Potomac and Langston, that are locally loved if not a little scruffy. Andrews Air Force Base is an affordable round and leads the military base options that usually but don't always offer civilian access. More: Military golf in the Beltway.
1. Wilderness Golf Course (4.65)
2. Moody Gardens (4.6)
3. La Torretta Lake Resort & Spa (4.53)
"Staycation" clubs appear to be where the value's at in H-Town. Three separate facilities within an hour of downtown, but well outside the loop, earn the highest value marks by far. Public golf closer to the core is in flux. Historic Gus Wortham just reopened last year after an extensive overhaul and now Memorial Park just went under the knife. The metro has also lost a few daily fees in recent years. But superlative public golf may be shining bright inside the loop once more.
San Francisco-Oakland-San Jose (#8)
1. Links at Bodega Harbour (4.45)
2. Cinnabar Hills Golf Club (4.35)
3. Reserve at Spanos Park (4.34)
More consistently high ratings and reviews tend to be found in the Bay Area suburbs compared to S.F. proper, which is home to notables like Sharp Park, TPC Harding Park (a deeper value for residents) and Lincoln Park. Muni rebuilds Baylands (Palo Alto) and Corica Park (Alameda) feature much better experiences but also higher fees than prior to their upgrades. If you're up for a road trip to Sonoma, the nine-hole Northwood Golf Club delivers value in spades.
1. Country Club of Halifax (4.81)
2. Sassamon Trace Golf Course (4.61)
3. Furnace Brook Golf Course (4.4)
Klein: Architect Mark Mungeam oversees restoration of Boston's historic municipal courses
1. Cherokee Run Golf Club (4.66)
2. John A. White Golf Course (4.62)
3. The Oaks Golf Course (4.59)
There is a good amount of semi-private golf in Atlanta hovering around $50 green fees. Stone Mountain is a popular pick. Also worth checking out is the redesign of Bobby Jones Golf Course, now a 9-hole reversible course.
Tampa-St. Petersburg (#11)
1. The Eagles Golf Club(4.46)
2. The Groves Golf & Country Club (4.44)
3. Heritage Isles Golf & Country Club (4.33)
It's tough to stand out in the saturated Tampa-area golf market. North of Tampa, Brooksville is a notable pocket home to a collection of great value courses. Meanwhile, Sarasota is planning an extensive renovation to Bobby Jones Golf Club.
1. Desert Springs (4.77)
2. Falcon Dunes (4.62)
3. Founders Course at Verrado (4.51)
Great value is typically found on the valley's perimeter. In the core, Phoenix locals love Papago, which has undergone some enhancements in recent years. A bargain muni well off the tourist path is Encanto Golf Course.
1. Lake Land Village (4.72)
2. Gold Mountain Olympic (4.7)
3. Gold Mountain Cascade (4.58)
Seattle lost a favorite bargain pick when Kayak Point closed last year. There are some solid, less expensive tracks spread throughout the suburbs like Willows Run Golf Complex and The Home course, owned by the Pacific Northwest Golf Association. You can also head up the Kitsap Peninsula to White Horse Golf Club, the No. 1 course in the state based in 2018 reviews.
1. Lake Erie Metropark (4.55)
2. Pheasant Run Golf Club (4.52)
3. Eagle Crest Golf Club (4.38)
The question in the 'D' is can the muni system get its act together? Management turmoil has plagued the system for years, which includes a Donald Ross gem, Rackham. Expand your radius to 40 miles and Ann Arbor's Leslie Park and Romeo's Heather Hills are stellar value picks.
Minneapolis-St. Paul (#15)
1. Clifton Highlands Golf Course (4.64)
2. River Falls Golf Club (4.55)
3. Hidden Greens (4.51)
The municipal Braemar Golf Course in Edina reopens this month after a major redesign to create 18 holes and a short course. Keller Golf Course, a county-owned facility, once hosted a PGA Championship.
Miami-Fort Lauderdale (#16)
1. Hollybrook Golf & Tennis Club (4.51)
2. East at Jacaranda Golf Club (4.32)
3. Osprey Point (4.3)
Most of the top values ratings are closer to Ft. Lauderdale than Miami. But closer to the city, Crandon Golf at Key Biscayne is a well-known value pick for residents. Tim Gavrich recently visited some of the value courses closer to Miami, which included Miami Shores, Miami Springs and the Country Club of Miami. All eyes are on the future of Melreese Golf Course, a muni targeted for development.
1. Family Sports Golf Center (4.5)
2. Coyote Creek Golf Course (4.44)
3. Green Valley Ranch (4.42)
One of Tom Doak's best values is east of town at CommonGround, which is operated by the Colorado Golf Association (non-members pay higher green fees). Denver's City Park Golf Course reopened this year after a big update. Riverdale's Dunes Course is considered one of Pete Dye's better daily fees and under $50 weekends.
1. Winter Park Golf Course (4.59)
2. Royal St. Cloud Golf Links (4.58)
3. El Campeon at Mission Inn Resort (4.55)
The secret is out about the charmer that is WP9. Meanwhile, those who make the drive to Howey-in-the-Hills' Mission Inn save on green fees and get bonus history and hills (and perhaps most importantly when in Orlando, quiet). Dynamic pricing based on tourist inflows play a big part in how much value tourists and locals can score.
A stroll to savor: The Winter Park 9 near Orlando
1. Fairways at Twin Lakes (4.83)
2. Chardon Lakes Golf Course (4.52)
3. Raccoon Hill Golf Club (4.48)
Cleveland residents are spoiled with architecturally relevant metropark courses: Sleepy Hollow by Canadian Stanley Thompson (not to be confused with the Sleepy Hollow CC that went to auction in April) and Manakiki by Donald Ross.
1. Timber Creek/Sierra Pines ** 27 holes (4.72)
2. Teal Bend (4.54)
3. Emerald Lakes Golf Center (4.41)
Cali tourists seem to drive past the Sacramento area and the result are some very high value scores. Noteworthy is the Haggin Oaks complex, one of the country's most complete public facilities, as well as Yocha Dehe (a little too far outside the metro to be considered but within an hour and a common Top 10 national pick by Golf Advisor raters).
1. Annbriar Golf Club (4.61)
2. Missouri Bluffs (4.4)
3. Acorns Golf Links (4.37)
Missouri Bluffs is one of Tom Fazio's best value picks. In the urban core, there are a casual options in Forest Park Golf Course and Highlands Golf & Tennis.
1. OGA Golf Course (4.57)
2. Stonecreek Golf Club (4.51)
3. West at Glendoveer Golf Club (4.41)
Portland's 36-hole Heron Lakes facility is a standout near downtown with two Robert Trent Jones Jr. designs. Also, the historic and narrow Eastmoreland Golf Course is over a century old and was designed by Chandler Egan. East of town, Elk Ridge and The Resort at the Mountain are bargain staycation options.
1. Eagle Chase Golf Club (4.76)
2. Red Bridge Golf & Country Club (4.47)
3. Mooresville Golf Club (4.44)
More: 5 great golf courses to play around Charlotte
1. Mount Odin Golf Course (4.78)
2. Apollo Elks (4.59)
3. Victory Hills Golf Course (4.52)
In the heart of the city is the historic Bob O'Connor Golf Course at Schenley Park. Totteridge is another well-known 18-hole, links-style course that falls just outside the 30-mile boundary.
Raleigh-Durham, N.C. (#25)
1. Keith Hills Country Club (4.64)
2. Reedy Creek Golf Course (4.53)
3. River Ridge Golf Club (4.43)
The Triangle's college courses are public and also offer solid value, including UNC Finley and N.C. State's Lonnie Poole. The Duke University GC is the priciest of the three ($95 peak guest rate) but still earns solid value marks.
1. Links at Challedon (4.33)
2. The Wetlands (4.3)
3. Bowie Golf & Country Club (4.16)
Baltimore locals also enjoy a five-course county system offering scenic and affordable layouts.
1. The Legacy (4.58)
2. Gaylord Springs Golf Links (4.52)
3. Montgomery Bell State Park (4.46)
About 45 minutes west in Dickson, Greystone Golf Club has earned such strong marks it has made our Top 50 U.S. list numerous years. More: Nashville's golf scene in Golf Odyssey.
1. Deer Creek (4.82)
2. Trophy Club (4.69)
3. Valle Vista (4.62)
LIfe is good for public golfers in Indy. In addition to these three courses, an array of relatively affordable Pete Dye-designed courses can be tackled, like The Fort, Plum Creek and Brickyard Crossing. Bear Slide made our Top 50 U.S. in 2018.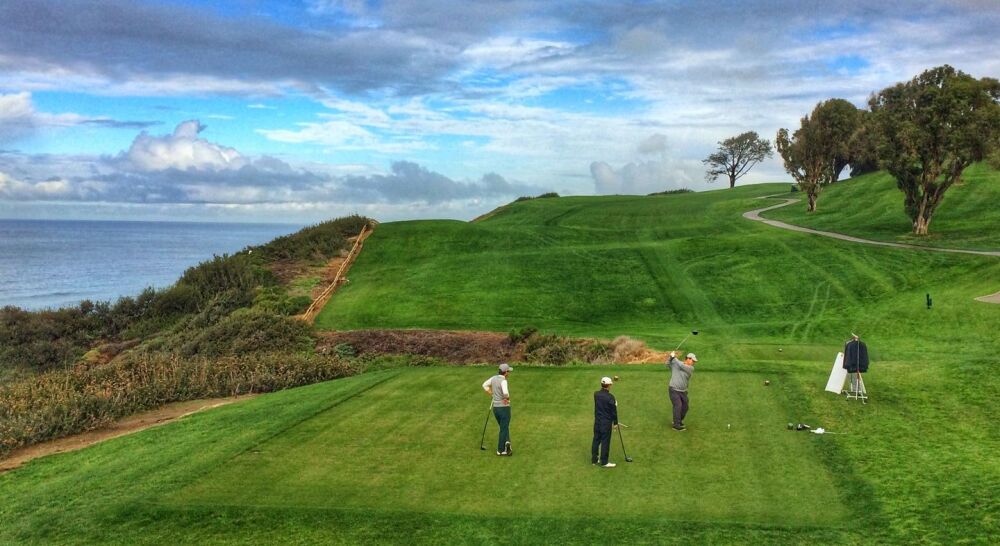 1. Mt. Woodson Golf Club (4.5)
2. Admiral Baker (South) (4.45)
3. Torrey Pines North (4.3)
Locals may get great rates at Torrey Pines South and Coronado but for non-residents the value is apparently elsewhere. Not to be missed are a wide variety of short courses from Goat Hill Park in Oceanside to The Loma Club and Tecolote Canyon closer to downtown San Diego. Balboa Park and Riverside are also bargain courses near the heart of the city.
1. Bountiful Ridge Golf Course (4.8)
2. Crater Springs Golf Course (4.71)
3. Lakeside Golf Course (4.53)
SLC got a bit of good news in that the muni Wingpointe adjacent to the airport might someday reopen.
1. Randolph Oaks Air Force Base (4.9)
2. Palmer Course at La Cantera (4.53)
3. Hyatt Hill Country Golf Club (4.46)
Resort courses in San Antonio appear to be delivering excellent value to residents and tourists alike. Meanwhile, military golf courses helps keep golf affordable around the Alamo (Fort Sam Houston's La Loma narrowly trails Hyatt Hill Country). Brackenridge Park anchors a stellar muni system (non-resident fees are much higher) while the Quarry and The Republic are notable daily-fee layouts.
1. Excelsior Springs (4.71)
2. Shiloh Springs (4.55)
3. Falcon Lakes (4.53)
Swope Memorial has a great reputation but not enough reviews thus far to qualify. More: Trip Dispatch on a Kansas City golf weekend
Hartford & New Haven (#33)
1. Timberlin Golf Club (4.64)
2. Indian Springs Golf Club (4.61)
3. Stanley Golf Course (4.58)
Keney Park has earned mixed-but-trending-positive reviews since its extensive rebuild and is a favorite of architecture buffs. Manchester Country Club, Pequabuck and Simsbury Farms are also strong area picks. More: Top 10 Connecticut golf courses
1. Darby Creek Golf Course (4.77)
2. Cooks Creek (4.53)
3. Willow Run Golf Course (4.52)
The city of Columbus boasts a nice mix of courses including two designed by Robert Trent Jones Sr., Champions and Raymond Memorial. A few other notable values that are a little farther drive from the city are Virtues (formerly Longaberger) and EagleSticks.
1. Beech Creek Golf Course (4.78)
2. Indian Ridge Golf Club (4.72)
3. Eagle Creek Country Club (4.62)
Cincinnati might be the best public golf destination in Ohio. The rolling hills of the countryside are ripe with affordable golf such as Aston Oaks by Jack Nicklaus, Legendary Run and Elks Run, a Greg Norman course. These $50 courses would be $75-$100 in more expensive cities.
1. Brighton Dale Links - White Birch (4.60)
2. Browns Lake Golf Course (4.59)
3. Petrifying Springs (4.43)
Washington County Golf Course fell just outside the radius border but has made our Top 50 U.S. list in previous years. Brown Deer Park held a long-standing PGA Tour event.
1. Lost Lake Golf Club (4.62)
2. Atlantic National (4.38)
3. Champions Club at Summerfield (4.33)
Boca Delray Golf & Country Club and Palm Beach Par 3 are two notable par-3 courses.
1. Saluda Valley (4.57)
2. Village Greens (4.5)
3. Legacy Pines (4.45)
Browse more golf courses and their ratings and reviews in Greenville
1. Mountain Falls (4.76)
2. Los Prados (4.64)
3. Snow Mountain at Las Vegas Paiute (4.63)
The three Paiute courses earn high value marks because they deliver a high-end experience at less cost compared to their high-end peers. Notable, more affordable values closer to the Strip include 36-hole Angel Park and Stallion Mountain. More: Las Vegas Trip Planner
1. Bluebonnet Hill (4.40)
2. Star Ranch (4.39)
3. Jimmy Clay (4.32)
The author lives here and sees the logic behind the data. Bluebonnet is a privately-owned alternative to the ATX munis and its pace of play and conditions are more consistent. Star Ranch is the best of the 1990s-2000s-era semi-privates on the metro perimeter and wins over golfers with unlimited golf green fees including lunch buffets. Jimmy Clay has been the most reliable of the muni system since its recent renovation. I'm obliged to also mention Delaware Springs, a legendary value but a solid hour-plus drive from Austin's Stevie Ray Vaughan statue.
1. Royal Manchester (4.59)
2. Mayapple (4.58)
3. Regents' Glen (4.5)
Royal Manchester's great bang-for-buck has helped it earn nods on several of our U.S. Top 50 lists through the years. Browse more tee times around the Pennsylvania capital.
1. The Club at Osprey Cove
2. Windy Harbour
3. St. Johns Golf & Country Club
Jacksonville Beach Golf Course is earning high marks since its renovation (made our most-improved list in 2018). We'll see how long the highly-trafficked muni can maintain its mojo. Golf Club at North Hampton is another well-known value pick, while Oak Marsh at the Omni Amelia Island Plantation earns surprisingly high value marks for a resort course.
1. Ross Bridge (4.88)
2. Limestone Springs (4.31)
3. Valley course at Oxmoor Valley (4.18)
If you've got a trail card, that makes the RTJ courses like Ross Bridge and the 36 holes at Oxmoor Valley even more affordable. Limestone Springs might be the best public course in the state not on the trail.
1. Chesapeake (4.52)
2. Suffolk (4.51)
3. Cypress Point (4.46)
Browse more tee times and ratings and reviews of Norfolk golf courses
1. Cobblestone Creek (4.8)
2. Links at Norman (4.73)
3. Winter Creek Golf (4.47)
Browse more courses, ratings and reviews of OKC golf courses
Greensboro-Winston-Salem (#46)
1. Blair Park Golf Course (4.45)
2. Quaker Creek (4.4)
3. Oak Hollow (4.39)
Browse more courses in the Greensboro, N.C. area.
Albuquerque-Santa Fe (#47)
1. University of New Mexico Championship course (4.5)
New Mexico presents a more affordable version of desert golf than Arizona. Paa-Ko Ridge is good enough to compete with Scottsdale's best courses but at slightly more than half the cost. (Editor's note: Current review sample size of New Mexico courses is small).
1. Chariot Run (4.8)
2. Heritage Hill (4.61)
3. Nevel Meade (4.6)
Louisville is a great drive-in market for golfers from Wisconsin, Michigan and Illinois because its season starts earlier in the spring and goes deeper into the fall. The golf presentation isn't extravagant, but there is variety available.
1. Pilgrim's Run (4.72)
2. Cedar Chase (4.60)
3. Moss Ridge Golf Club (4.55)
Pilgrim's Run is one of the best values in the country. Two other Mike Devries specials aren't on this podium but are worth a shout out. Diamond Springs and The Mines present architecturally interesting layouts for budget-conscious golfers.
1. Riverlands (4.5)
2. Audubon Park (4.45)
3. Joseph Bartholomew (4.44)
NOLA doesn't have the mass of courses of other markets and has lost some layouts in the years following Hurricane Katrina. Uptown's Audubon Park is one of the great urban settings for golf in the world. A high non-resident green fee keeps the newly-built Bayou Oaks City Park South Course lower on the value scale, while City Park's North struggles compared to area semi-privates.